A scary incident during a California OC Youth Basketball game has left one parent reeling with anger after her daughter came home disoriented with a concussion. The series of events that led up to the moment are simply unbelievable and appalling.
Why Was 15-year-old Girl Lauryn Ham Sucker punched at California OC youth Basketball Game?
Viral footage shows the moment a 15 year old girl named Lauryn Ham was knocked out by a much bigger player while running up the court. The force from the sucker punch left her laid out on the court with a concussion.
The incident started when the assailant made a three point shot, and fell over Lauryn Ham when landing. The person's mom instructed her kid to punch Lauryn Ham for being in her landing zone, which the child did. The result was Lauryn Ham left with a brain injury that luckily was only a concussion, which she should make a full recovery from.
Lauryn Ham's Mother Alice Ham Reacts to Sucker Punch Knockout During OC Youth Basketball Game
In a statement on Instagram Lauryn Ham's mother Alice said this regarding the video of her daughter getting knocked out by a sucker punch:
"This.. this right here makes me sick to my stomach. This happened to my daughter at her game yesterday. There is absolutely no place for something like this in basketball. I don't care how famous you are. This mom told her daughter to "go and hit her", and my kids gets an unprovoked sucker punch. I'm sorry but it's everything that's wrong with youth sports. The girl and her mom showed absolutely no remorse and offered no apology. Youth sports needs change."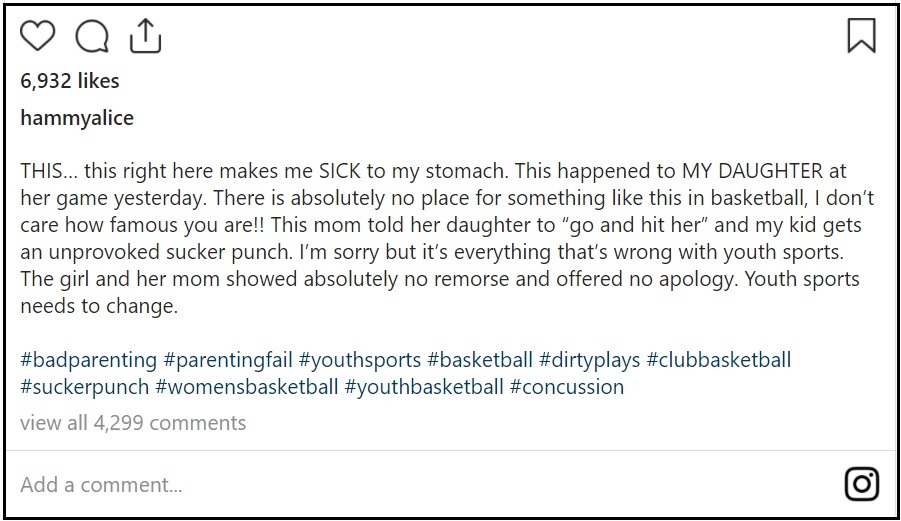 In basketball there is an unwritten rule that is now a written rule in the NBA that a player should never be in the landing space of shooter due to the risk of ankle injuries. We all remember what Zaza Pachulia did to Kawhi Leonard.
However, that's never an excuse to sucker punch somebody in such a dangerous manner, especially in a youth basketball game. Alice Ham has allegedly pressed charges against the player who sucker punched her daughter, according to multiple news reports.
Author: JordanThrilla Staff