The question of whether or not Bones Hyland dissed Jamal Murray during an interview has been a hot topic among basketball fans. During an interview, when asked what it was like playing with Murray and Nikola Jokic, and now Kawhi Leonard and Paul George, Hyland replied saying "It was a great experience playing with Joker. Two guys over here who are phenomenal talents, and over there there's one guy with phenomenal talent as well". Why would Bones Hyland throw shade at Jamal Murray?
Do Bones Hyland and Jamal Murray Have Beef?
The idea that Hyland was intentionally attempting to diss Murray is further supported by the fact that Hyland himself never directly mentioned Murray's name. Rather, he simply referred to the "one guy with phenomenal talent," thus leaving room for speculation about the identity of the player he was referring to. Also if you look closely he only mentioned Jokic's name when saying he had a great experience, which could imply he felt playing with Murray was a bad experience for him.
To many people, Hyland's comments seemed to make it clear that he felt Jamal Murray was overrated. This could be due to the fact that Hyland's minutes had decreased after Murray's return to the lineup from his ACL injury, before Hyland was traded to the Clippers. Indeed, it's possible Hyland was upset about his minutes dwindling, and perhaps this was the source of his comments during the interview. Could they have had other non basketball related issues going on behind the scenes?
Social Media Reactions Convey People are Convinced that Bones Hyland is Taking Shots at Jamal Murray
While it may be true that Bones Hyland has beef with Jamal Murray, it's impossible to know for sure what his true intentions were when he chose those words. It could have been that Hyland was simply making an observation about the talent level of his former teammates, not a deliberate effort to insult or criticize anyone.
However, social media is convinced that Bones Hyland was throwing shade at Jamal Murray. There is more evidence that could support that theory. Not too long ago it was alleged that Hyland's friends called Murray a "b**** a** teammate", in response to a tweet he sent out saying "do not complain about what you didn't get from the work you didn't put in".
Most people thought Murray was taking shots at Hyland for complaining about his minutes going down. Essentially his recent comments could be the confirmation that their beef was real.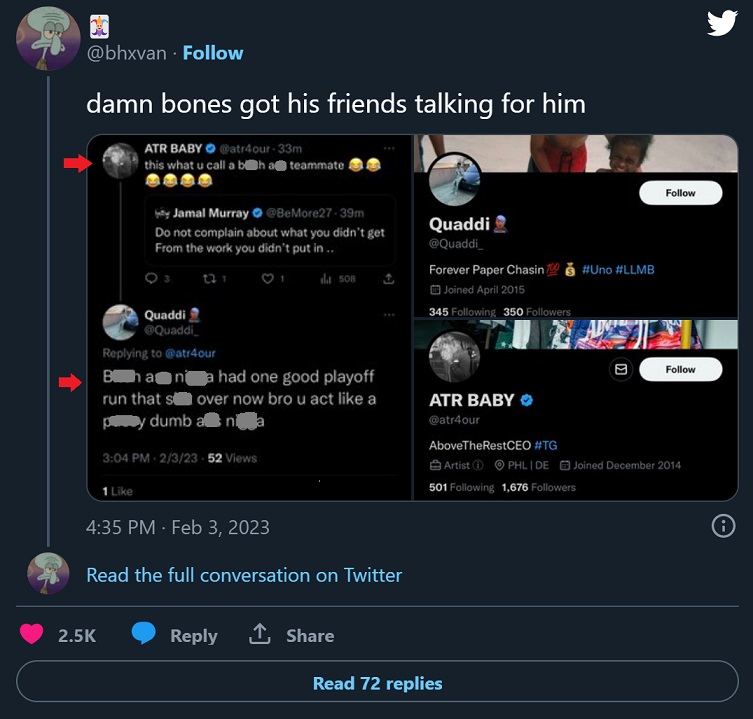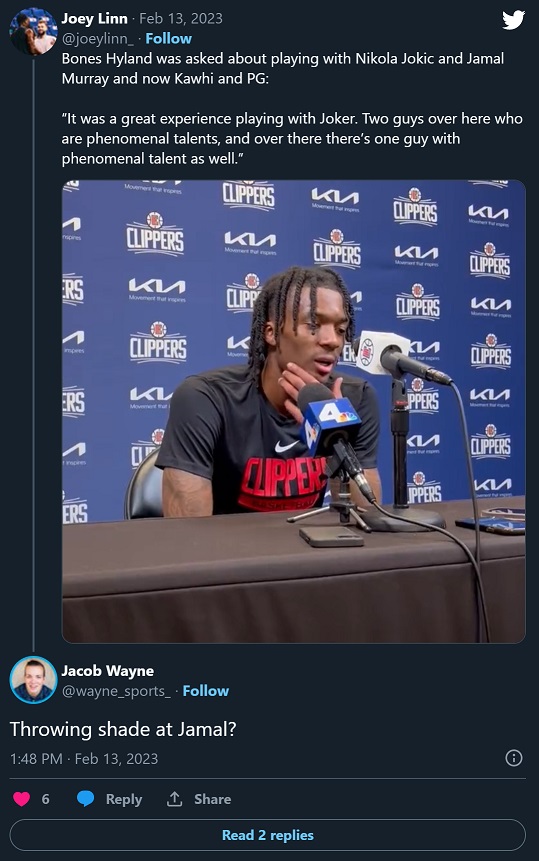 Bones Hyland usually seems to be happy go lucky type of player, so it's a bit surprising to see him possibly taking shots at Jamal Murray in such a direct manner.
Regardless of Hyland's true motives, it's clear that his words sparked plenty of controversy. Some people thought he was being disrespectful and unprofessional, while others argued that he was merely stating his opinion in a bold manner. The big question is how will Murray react when he finds out what was said?