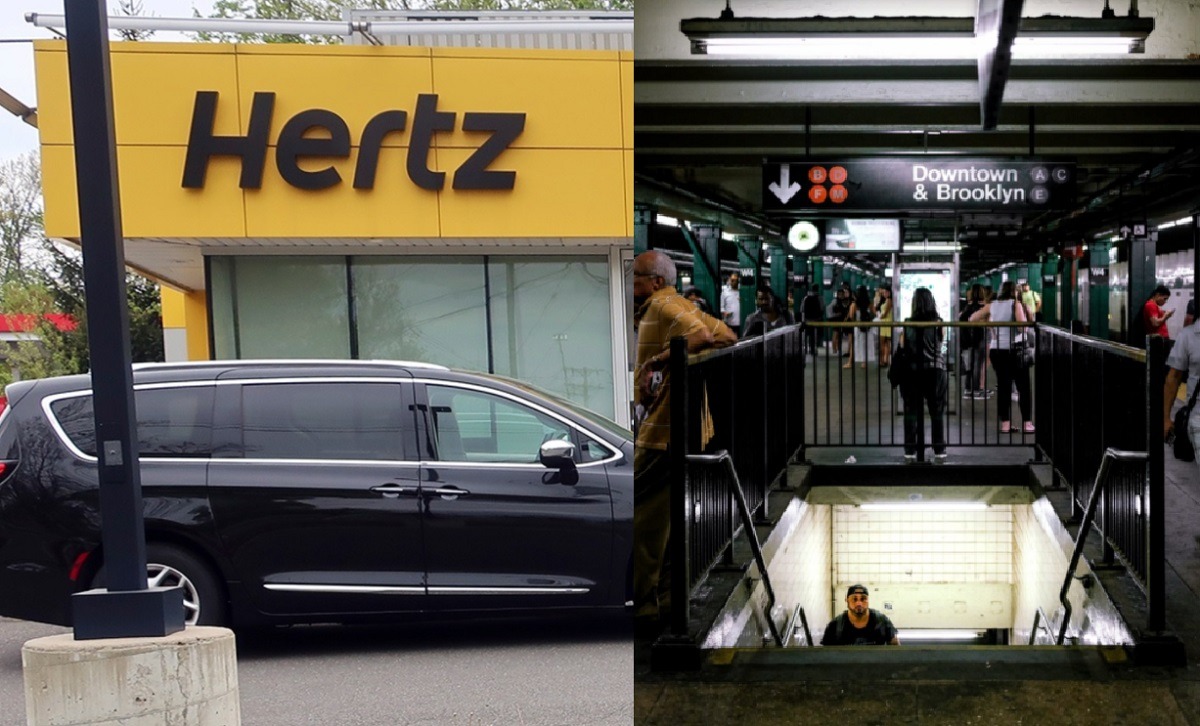 Rental car companies are usually a life saver for people who need a quick ride when traveling somewhere. However, often times they can be someone's worst nightmare when they neglect to put the well being of their customers first.
During the Thanksgiving holidays most people would expect the terms of their rental car contracts to be fulfilled on one of the most important travel days of the year, but for one woman named Kate Klonick, Hertz would make her holidays very miserable.
Hertz Gold Customer Kate Klonick Letter Details How Hertz Left Her Family Stranded in Freezing Weather Before Thanksgiving
Kate Klonick's Hertz nightmare started when she reserved car that she was suppose to pick up on November 21 at 12 pm at a Brooklyn NY location per the contract Hertz gave her. At the time they quoted her a price that came to $414.93 with tax.
When she arrived at the Hertz location at 12 pm, she was distraught to see a line of 15 people waiting after learning the location closed at 12 pm. There was only 1 person working at the front counter named Amanda.
For Kate this was the first red flag as Hertz put 12 pm as the pickup time, despite the pickup location closing at 12 pm. The red flag became reality when Amanda announced that she would only serve 5 of the 15 customers who were waiting in line, despite Hertz guaranteeing Kate she could pickup her car at 12 pm.
Kate waited in line for 2 hours, because her husband called Hertz customer service who instructed them to wait in line since she was Gold member. A Hertz representative allegedly assured that her Gold customer status meant that the location had to serve her before closing.
However, on a second call Hertz told her to make a new reservation for at a different Union Street location for $1,800. That's an almost $1,400 increase from the original price in her contract, which of course she declined.
When Amanda started to close up after serving 12 of the customers, she told Kate and the other two remaining in line to call the customer service number she had already dialed. They begged Amanda to stay open, and even offered her cash as a tip, but she declined to serve them.
Hertz left Kate Klonick stranded in freezing 40 degree weather with no car. She was with her husband, and pet dog.
Feeling defeated Kate Klonick decided to call the Union Street location that gave her a $1,800 quote, but they had already closed as well. She contacted Hertz customer service again who told her to go to the La Guardia Airport's Hertz location, and they would have cars ready for her rent.
Following their instructions Kate and her family took an Uber to the Hertz La Guardia location only to find out they were unable to make new reservations, because all their cars were already rented. Keep in mind she spoke to Hertz customer support who told her they had cars available before she spent almost $50 on an Uber to get there.
Feeling even more defeated Kate Klonick called back Hertz customer service who disconnected on her three times in a row.
Kate Klonick and her family had to take an Uber back home, where they contacted Hertz again, but this time were told to go back the La Guardia location she had just left from.
In the end Hertz told Kate that she could rent a car from a Williamsburg location 45 minutes from her house, but they would have to pay $1,800. They declined this offer stating they wanted the rental car at the price they were originally guaranteed in their contract.
Take at look at Kate Klonick's letter exposing Hertz's bad business practices leaving her family stranded in the cold.
Moral of this story is try not to rent from Hertz if you have important travel plans, because you could end up going through what Kate Klonick and her family went through. Bless their souls.
Hertz should be ashamed of themselves for this.
Authors: JordanThrilla Staff