Apple's AirPods are one of the most popular wireless earbuds in the market, offering a seamless connection with other Apple devices, active noise cancellation, spatial audio, and more. But what if they could also have a touchscreen display on their case? That's the idea behind a new patent that Apple has recently filed with the US Patent and Trademark Office.
The patent, titled "Headphone Case with Interactive Display", describes a redesigned AirPods charging case that features a display similar to an Apple Watch on its front. The display would allow users to access and control various applications that are connected to the AirPods, such as music, podcasts, maps, weather, notifications, and more. Users could also adjust the audio settings of the AirPods through the case, such as volume, equalizer, and noise cancellation.
According to the patent, the display would be responsive to touch inputs and voice commands via Siri. Users could swipe, tap, or press on the display to navigate between different apps and functions. The display would also support haptic feedback and gestures, such as Handoff to transfer audio playback from the AirPods to a HomePod or another device.
The patent suggests that having a display on the AirPods case could enhance the user experience and convenience of using the earbuds. For example, users could quickly check the battery level of the case and the AirPods without opening the lid or taking out their iPhone. Users could also access some basic information and controls without having to take out their iPhone or use an Apple Watch.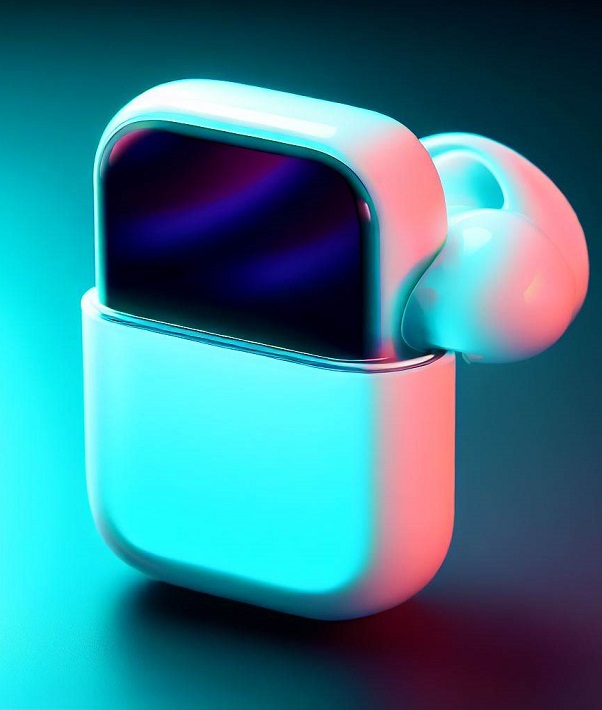 The patent also mentions some possible advantages of having a display on the case in terms of power efficiency and battery life. The display could reduce the need for frequent communication between the AirPods and the iPhone or other devices, which could save battery power. The display could also optimize the user interface based on the available power level of the case and the AirPods.
Of course, a patent does not necessarily mean that Apple will actually release a product based on it. Apple files many patents every year, but only some of them end up being used in real devices. It is possible that Apple is just exploring different ideas and concepts for future AirPods models.
However, it is also possible that Apple is working on a new AirPods case with a display as a way to differentiate its earbuds from other competitors in the market. Some of them, such as JBL's Tour Pro 2, have already announced similar features for their upcoming wireless earbuds. A display on the case could also add some functionality and value to the AirPods, especially for users who do not own an Apple Watch or other Apple devices.
What do you think about this patent? Would you like to see an AirPods case with an interactive display?