Kanye West's Donda Academy is facing a lawsuit from a group of parents who claim that the school only serves sushi for lunch, violating their children's dietary and religious rights. The lawsuit, filed in Los Angeles County Superior Court on Monday, alleges that the school has failed to provide adequate and nutritious meals for its students, who are mostly low-income and minority. The plaintiffs also accuse the school of discriminating against students who do not eat sushi for cultural or religious reasons, such as Muslims and Jews.
Details about the Donda Academy Sushi Lawsuit Kanye West is Facing
According to the lawsuit, the school does not offer any alternative options for lunch, and students who bring their own food are ridiculed and harassed by staff and other students. The lawsuit claims that the school's policy of only serving sushi is part of Kanye West's "vision" for the academy, which he founded in 2022 as a private boarding school for aspiring artists and athletes. The school's website states that its mission is to "empower the next generation of leaders with a curriculum that fosters creativity, innovation, and excellence."
The lawsuit seeks unspecified damages and an injunction to stop the school from only serving sushi for lunch. It also demands that the school provide a variety of healthy and culturally appropriate meals for its students. The plaintiffs' attorney, David Smith, said in a statement that the lawsuit is not about attacking Kanye West or his music, but about protecting the rights and well-being of the students. "We respect Mr. West's artistic vision and his right to express it in any way he chooses. However, we do not believe that his vision should come at the expense of the health and dignity of the children who attend his school," Smith said.
The school has not yet responded to the lawsuit or issued any public comment on the matter. Kanye West, who changed his legal name to Ye in 2021, has been known for his controversial and eccentric behavior in recent years. He ran for president in 2020 as an independent candidate, divorced his wife Kim Kardashian in 2021, and released his tenth studio album Donda in 2021, which he named after his late mother. He also announced plans to build a city named Donda in Haiti, where he said he would create jobs and opportunities for the people.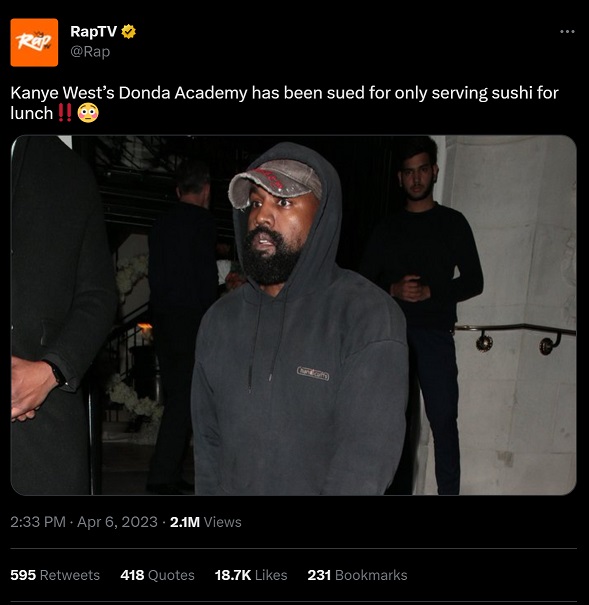 Sushi is one of those love it or hate it type of foods, so it's no surprise that parents are heated about the alleged lunch menu.