The saga between Kim Kardashian and Kanye West took a dangerous turn after Pete Davidson sent a picture clearly trying to troll him. The result was Kanye West making some bold claims on social media that could get him in legal trouble, and adult photos being sent. What Kanye West said about DL Hughley has social media in an uproar.
Details on How Kanye West Threatened to 'Hurt' DL Hughley For Saying He is Stalking Kim Kardashian
In a recent DJ Vlad interview, DL Hughley said Kanye West is stalking Kim Kardashian. While discussing how Kanye West bought a house across from his Ex-Wife, DL Hughley said this:
"He is stalking her. You can think it's cute, but if it was my daughter I would do something about it. I don't think it's funny. I think you can't write a beat so good that you get to do these things."
After receiving a picture of Pete Davidson in bed with Kim Kardashian through a text, Kanye West went on a social media tirade in now deleted posts. In one of those posts Kanye West threatened DL Hughley saying,
"DL Hughley is a pawn. Yeah I know a king not supposed to address a pawn, but I address everything and find addresses DL Hughley. Don't speak on me or my children I can afford to hurt you"
Essentially it seems Kanye West threatened to put a hit on DL Hughley. Below is the photo of Pete Davidson in bed with Kim Kardashian that sent Kanye into a rage.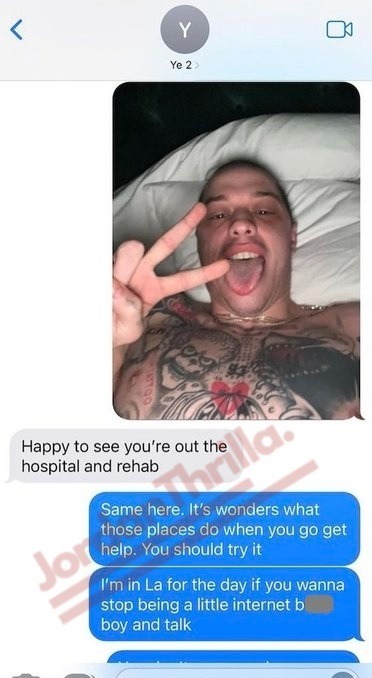 This is video from back in February where DL Hughley accused Kanye West of stalking Kim Kardashian.
Social Media Reacts to Kanye West Threatening DL Hughley For Saying Kanye is Stalking Kim Kardashian
Social media usually supports Kanye West during his emotional breakdowns, but in this case he's not receiving any understanding. Most people believe that Kanye West threatening to hurt DL Hughley for simply stating his opinion is crossing the line. Social media condemned his actions with some very emotional posts agreeing with DL Hughley's stalking sentiment.