Freddie Gibbs and DJ Akademiks are going at it on twitter again. For the most part it is back and forth disses about physical appearance, street credibility, and success in the rap game, but things took an interesting turn when Freddie Gibbs exposed DJ Akademiks threatening a female through text messages.
Freddie Gibbs Leaks Text Messages of DJ Akademiks Threatening Imani
In DJ Akademiks' leaked text messages to Imani, the first message in the conversations starts with him saying,
"Imani, You sure you want to do this"
Imani didn't back down basically responding saying she wants all the smoke. Imani called out DJ Akademiks for being best friends with Tekashi 6IX9INE despite him being a snitch who allegedly molested an underage woman.
The conversation ends with DJ Akademkis telling Imani to pull up to his address, which he claimed was 4613 Tackawanna St, Philadelphia, PA 19214. Apparently this is a fake address as you will see below.
Take a look at how it went down.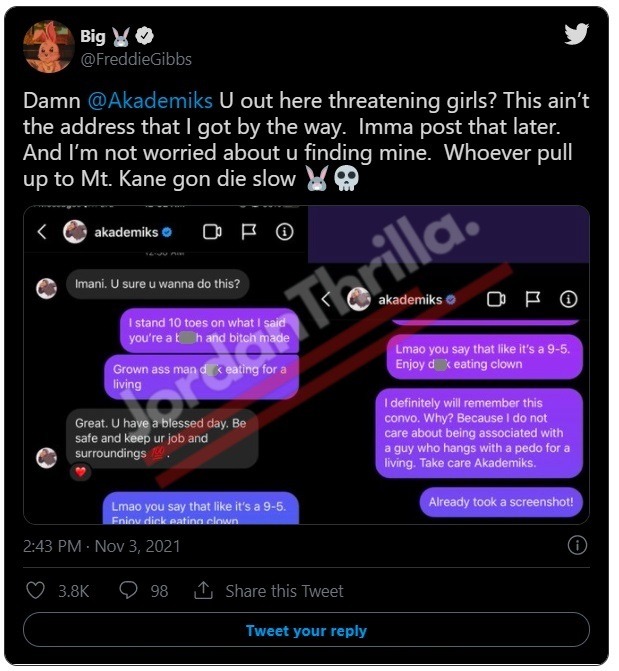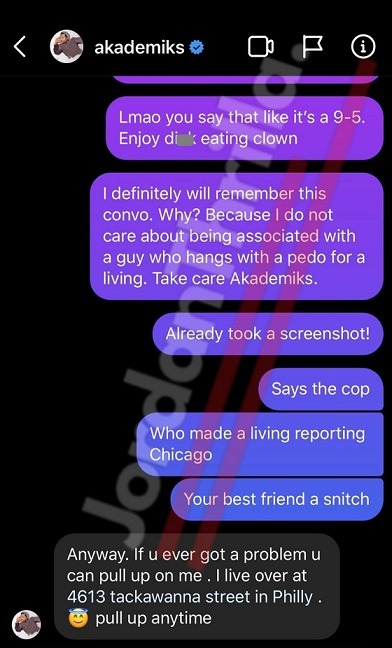 Does DJ Akademiks live at 4613 Tackawanna St, Philadelphia, PA 19214? Based on how the location looks he definitely doesn't.
Freddie Gibbs got DJ Akademiks looking real funny in the light at the moment. DJ Akademiks threatening females telling them pull up to fake addresses is not a good look.
Funny thing is many people would put their money on Imani in a fight against DJ Akademiks. The Freddie Gibbs vs DJ Akademiks beef is getting deep.
Author: JordanThrilla Staff