A bizarre incident unfolded in Los Angeles recently, when a man climbed up the KTLA tower and refused to come down for hours. The man was holding signs that read "Free Billie Eilish" apparently referring to the popular singer-songwriter, and another that said "MK Ultra $ex Slaves Donald Marshall Clones". However, it is unclear what he meant by that, since Eilish is not in jail or under any legal trouble.
Why Was the KTLA Tower Man Holding a "Free Billie Eilish" and "MK ULTRA" Sign?
The incident attracted a lot of attention from the media and the public, who watched the drama unfold live on TV and online. Some people expressed concern for the man's mental health and safety, while others made jokes and memes about his stunt. The hashtag #freebillieeilish started trending on social media, with some users wondering what the man's motive was and others using it to show support for Eilish's music and activism.
After more than three hours of standoff, the man finally agreed to come down from the tower. After dropping his guitar onto a LAFD inflatable, he used a ladder that was provided by the rescue teams and was taken into custody by the police. He will likely face charges of trespassing and vandalism. Luckily he didn't seem to be suicidal in anyway.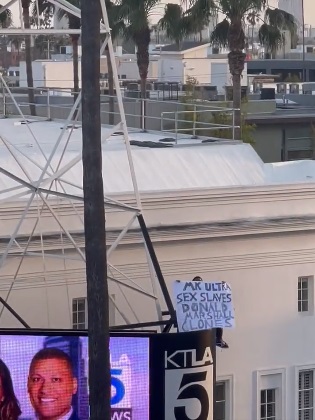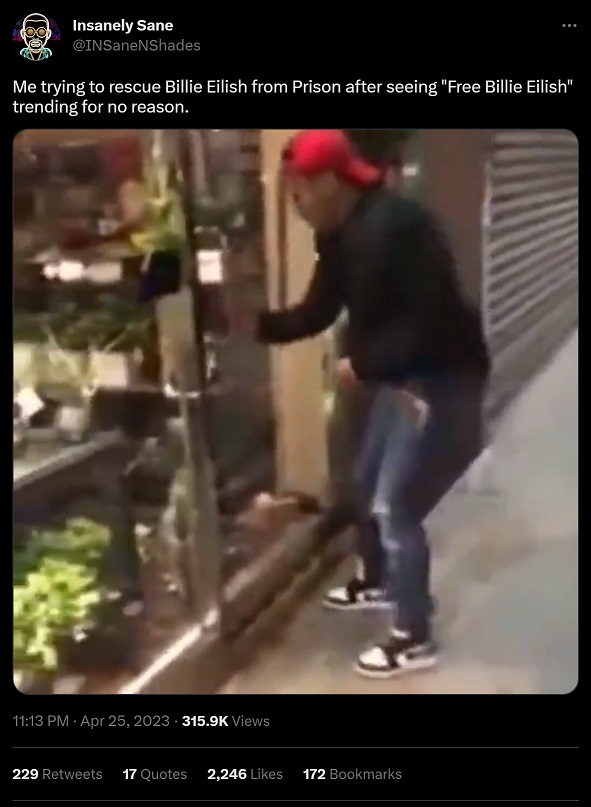 It is still unknown why the man chose to climb the KTLA tower, and what his connection to Billie Eilish is, if any. Also why did he have MK ULTRA and Donald Marshall on the other side of the poster board? Is he trying to say that he believes Billie Eilish is an MK ULTRA victim?
Eilish herself has not commented on the incident yet. The tower, which is located at the Sunset Bronson Studios in Hollywood, is 160 feet tall and has been used by KTLA since 1925. It is a landmark of the city and has been featured in many movies and TV shows. You would have to be very brave, and at least slightly crazy to try climbing it without safety gear.