The rap world is no stranger to beefs, but sometimes they can take unexpected turns. Such is the case with the recent clash between rapper Cam'ron and adult film star Jimmy Smacks, who goes by Jimmy_smacks on Instagram.
Why Was Camron Beefing with Adult Film Star Jimmy Smacks in IG Comments?
The comment thread feud started when Jimmy Smacks made a post calling Camron washed up, where he said, "N**** rap career been done. Got nowhere near the money I got, but want to mention me".
Cam'ron, who is known for his witty and often hilarious insults, did not take kindly to the diss and fired back with a post of his own. In it, he insinuated that Jimmy Smacks is allegedly gay, and claimed that he was a male prostitute.
In the post Camron wrote, "Jimmy you have $10 billion dollars. You suck d*** for money prostitute, pause. You justify money with a person telling you while you suck d*** 'watch your teeth jimmy' then n***** on your face? You got to relax. Its nothing wrong being gay jimmy, its 2023 buddy".
The exchange quickly went viral, as many people found it amusing and bizarre to see the Dipset legend Camron beefing with an adult film star. Cam'ron, who rose to fame in the late 90s and early 2000s as the leader of the Harlem-based rap group The Diplomats, is widely regarded as one of the most influential and charismatic rappers of his era.
He is known for his distinctive style, which includes his trademark pink outfits, his use of slang and humor, and his innovative sampling of soul and RnB music. He has also been involved in several notable beefs with other rappers, such as Jay-Z, 50 Cent, and Nas.
Jimmy Smacks, on the other hand, is a relatively new figure in the adult entertainment industry. He started out as a social media influencer, posting videos of himself flaunting his lavish lifestyle and interacting with various celebrities.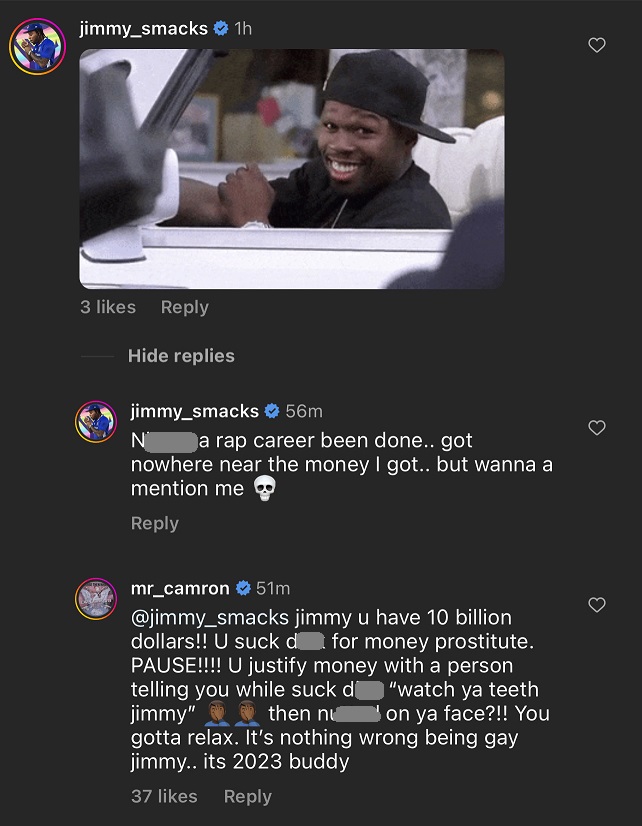 Many people seem to believe there is no winning for Cam'ron in this situation, because he's going to get no props from winning a beef against an adult film star. This would be like 50 Cent beefing with Brian Pumper, even if he won the beef it would still be like a loss in the grand scheme of things.
2023 has been a really interesting year for hip-hop so far. The abundance of random happenings seems like a trend that won't slow down anytime soon.