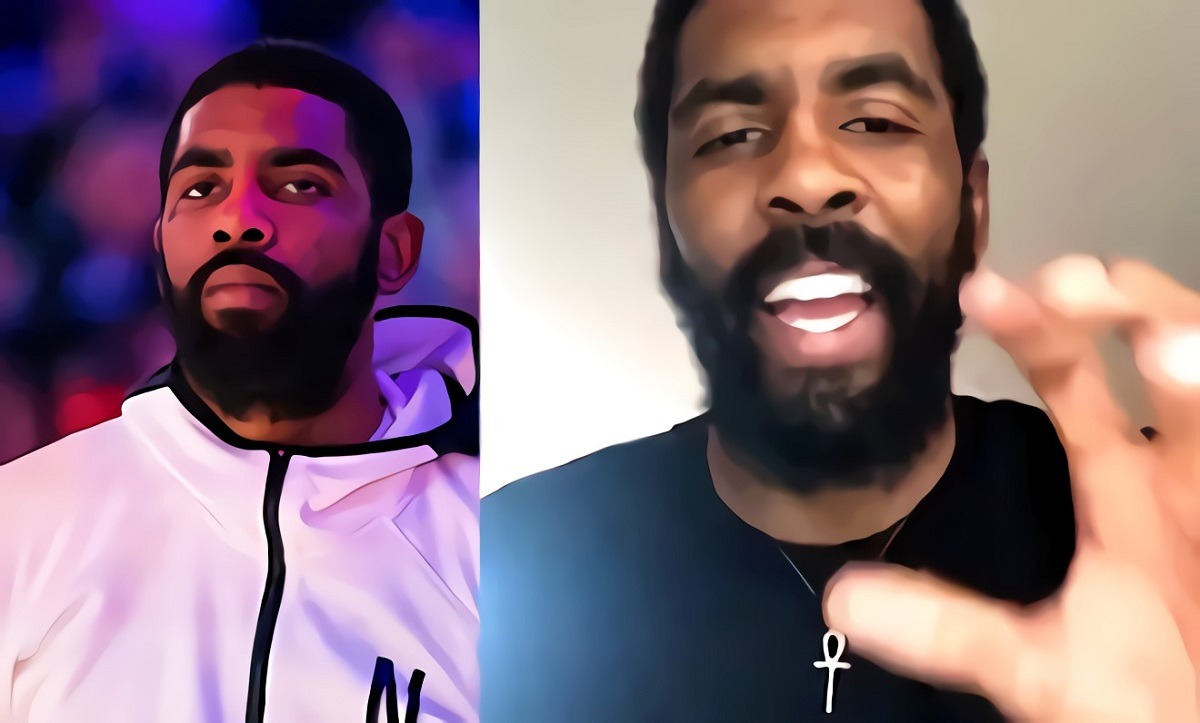 Nets were feeling good after last seasons loss to the Bucks. They took them to a game 7, and were literally within inches of advancing with both James Harden and Kyrie Irving injured. However, as the new season inched closer an overbearing vaccine mandate from NYC spelled early demise for their team chemistry, and season. Today the implications New York's vaccine mandate will have on the Nets was made official.
Nets GM Sean Marks Bans Kyrie Irving From the Nets For Refusing to Get Vaccinated
It was announced today that Nets GM Sean Marks banned Kyrie Irving from Nets for taking a stand against the vaccine mandates, and refusing to get vaccinated. Sean Marks said Kyrie Irving can not practice or play with the team until he gets vaccinated to comply with NYC vaccine mandate that says New York residents must be vaccinated to enter an arena. This comes after Steve Nash said they learned that Kyrie Irving could practice with team without being vaccinated, because their practice facility was not covered by NYC vaccine mandate.
Sean Marks claims he respects Kyrie Irving's decision to not get vaccinated, but also says they will not permit any player to be a part time member of the team. In other words they refused to give Kyrie Irving special treatment. While some people may blame Kyrie Irving for this situation, the blame should go to the vaccine mandate that encroaches on an individuals ability to make a personal medical decision about what they put in their body.
Take a look at Sean Marks' full statement on banning Kyrie Irving from Nets until he gets vaccinated.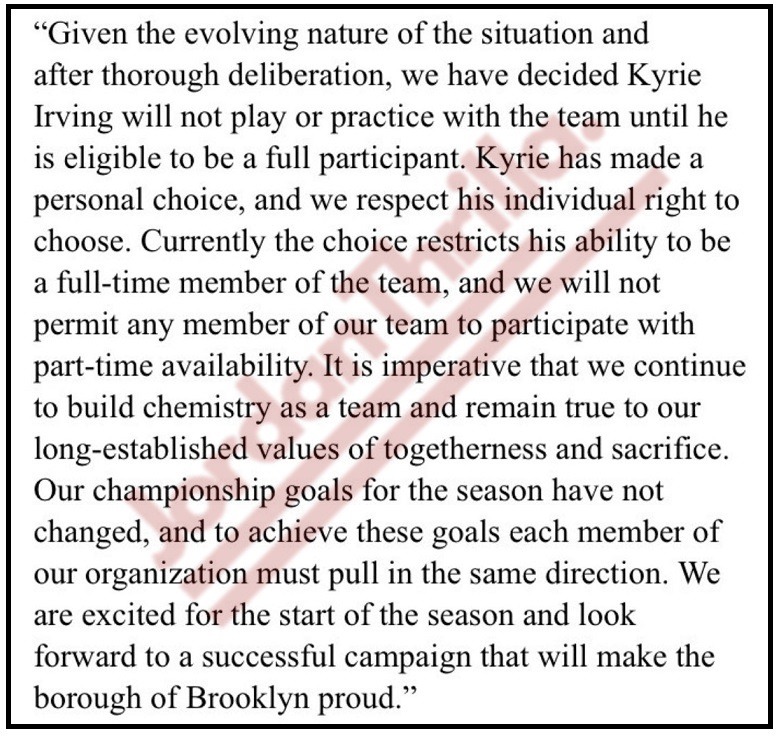 In this case the vaccine mandate is stipulating a COVID vaccine that currently still has many unknown factors about the adverse side effects that can happen, the long term side effects it can cause, and the frequency at which the side effects happen. For example Nordic countries recently banned the Moderna COVID Vaccine to certain age groups after the Finnish Institute of Health discovered new data showing that heart inflammation (myocarditis) happens more often in young people than previously reported. Keyword there is "new data".
Iceland has banned the Moderna COVID Vaccine completely, while other Nordic countries such as Sweden, Denmark, Finland, and Norway have banned it for people aged 30 and younger. Remember the Pfizer Vaccine is also based on the same MRNA technology as the Moderna vaccine, which was linked to an increasing number of adverse heart side effects.
Kyrie Irving is 29 years old, so he's in the age group most as risk for developing a heart complication related to the COVID vaccine.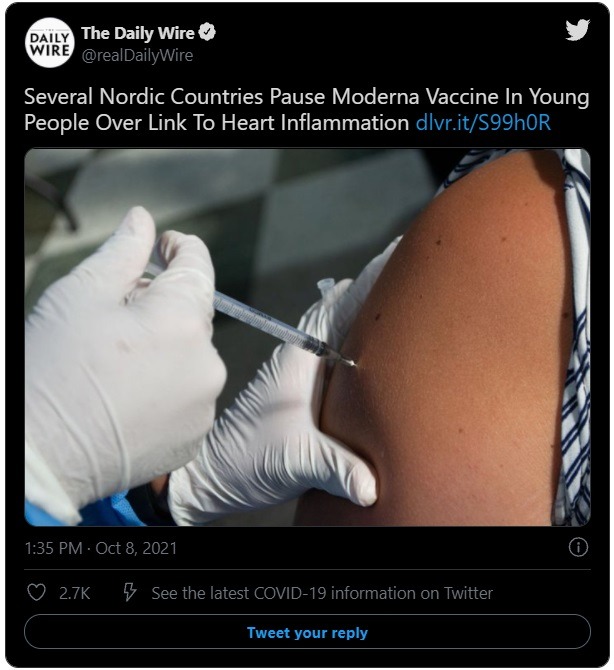 A few months ago Dr. Fauci said the viral load of a vaccinated person who has COVID delta variant, is the same as an unvaccinated person who has the same infection. Almost all cases of COVID now are allegedly delta variant, which led to CDC reissuing a mask guidance for vaccinated people.
Would Kyrie Irving really pose more of a risk than an NBA player who is vaccinated? Keep in mind players on opposing teams can play in Nets arena unvaccinated, which shows how silly some aspects of vaccine mandates are.
Kyrie Irving is the type of guy who holds his personal beliefs and morals above money, so the chances of him getting vaccinated just to play basketball is slim to none. Even if he never plays another game in the NBA he would be set for life.
Since they won't let him play part-time, if he agrees to it then Nets should think about trading Kyrie Irving to a team based in a city with no overbearing vaccine mandate laws. If you want the COVID vaccine you should get it, but people who don't want the COVID-19 vaccine shouldn't face consequences like this.
Will Kyrie Irving cave under the pressure and get vaccinated, or stay true to his morals?
Author: JordanThrilla Staff