You may know Vanessa Williams as a singer, actress, fashion designer, and former Miss America. But did you know that she is also confident in her natural look? The 60-year-old star recently shared a no makeup photo on her Instagram account that has gone viral for its stunning display of her ageless beauty.
The photo shows Williams sitting in a car with her hair pulled back, and her face free of any makeup or filters. She captioned the photo "no filter no energy" to prove that she doesn't need any enhancements to look gorgeous.
Williams is not the only celebrity who has embraced the no makeup trend. Many other stars, such as Alicia Keys, Jennifer Lopez, and Drew Barrymore, have also posted photos of themselves without any makeup on, showing their fans their true selves and inspiring them to do the same.
According to a report by Grand View Research, the global makeup market was valued at $62.3 billion in 2018 and is expected to grow at a compound annual growth rate of 5.9% from 2019 to 2025. However, some people are choosing to go against the grain and opt for a more natural look, either by using less makeup or none at all.
Take a look at the legendary Vanessa Williams with no makeup on.
Her she is side by side with makeup vs without, she looks just as beautiful in both photos right? For reference the picture on the left is from one month ago.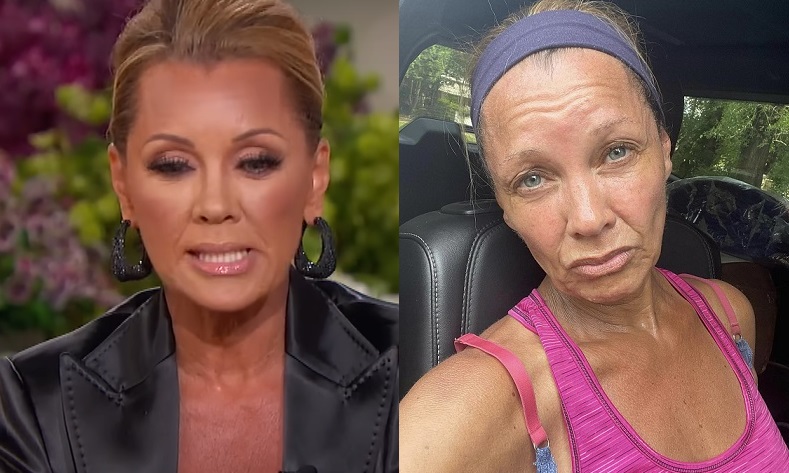 What are Some Benefits of Going Makeup Free?
There are many benefits of going makeup-free including saving time and money, reducing skin irritation and breakouts, and boosting self-esteem and confidence. Going makeup-free can also help you appreciate your natural features and express your personality without hiding behind what some people believe is technically a mask.
Of course, there is nothing wrong with wearing makeup if you enjoy it and feel comfortable with it. Makeup can be a form of art and creativity, and it can enhance your appearance and mood. The important thing is to do what makes you happy and confident, whether that means wearing makeup or not.
Vanessa Williams is a perfect example of someone who can rock both looks. She has shown us that she can dazzle on the red carpet with glamorous makeup, but she can also wow us with her natural beauty and radiant smile, even at her current age. She is an inspiration to women of all ages who want to embrace their true selves, and live their best lives.