It should go without saying that victim blaming any group of people that went through horrific times in history should not be tolerated. Recently Kanye West has been the hottest topic in the world due to his alleged anti-Semitic remarks about Jewish people, and how they control the media. In wake of his comments several companies have cancelled their partnerships with Kanye West most notably Balenciaga and Adidas. For many people the situation has highlighted a double standard when it comes to how companies and celebrities react to hurtful comments about black people in comparison to Jewish people.
People are Calling Out Celebrities and Companies Cancelling Kanye West for Anti-Semitism Because They Turned a Blind Eye to His 'Slavery Was a Choice' Comment
Today it was announced that Adidas has cancelled their partnership with Kanye West effectively immediately due to comments about Jewish people. With almost half of his net worth coming from that deal Kanye is no longer a billionaire, but is still worth a hefty $400 Million due to his other business endeavors. He likely doesn't care about losing his Adidas contract, because recently he was on Live News discussing his plans to cut ties with them, and go independent anyway. As the situation unfolds many people are becoming more and more aware of another layer of racism hidden within the reactions to the racism in Kanye's remarks.
About 4 years ago Kanye West was having a discussion with TMZ staff when he revealed his true thoughts about slavery. At the time he went viral for saying "slavery was a choice". As you'll see in the footage below he couldn't understand how black people allowed white people to enslave them for 400 years. His comments were very hurtful to the black community, because it's estimated that at least 5 million black people died during America's slave trade era. In fact when he made that comment a black member of TMZ staff confronted Kanye West, which is also shown in the video below.
The strange part about that incident was the fact that the celebrities and companies Kanye West was associated with such as the Kardashians and Adidas turned a blind eye to his 'slavery was a choice' comment. No business deals were ended and no comments from white celebrities such as Kim Kardashian who have been very outspoken about his hurtful rhetoric regarding Jewish people. Now social media is calling out companies and celebrities cancelling Kanye West since they had nothing to say when he made comments that were hurtful to black people.
Has Kanye West unintentionally exposed a double standard in terms of how society reacts to these situations based on what racial group it's affecting? Take a look at some reactions from social media calling out the companies and celebrities cancelling Kanye West.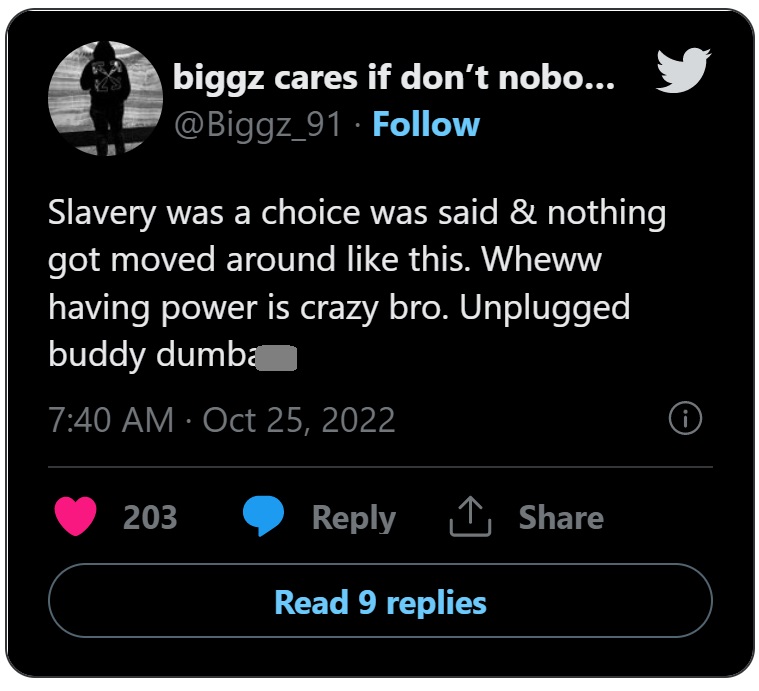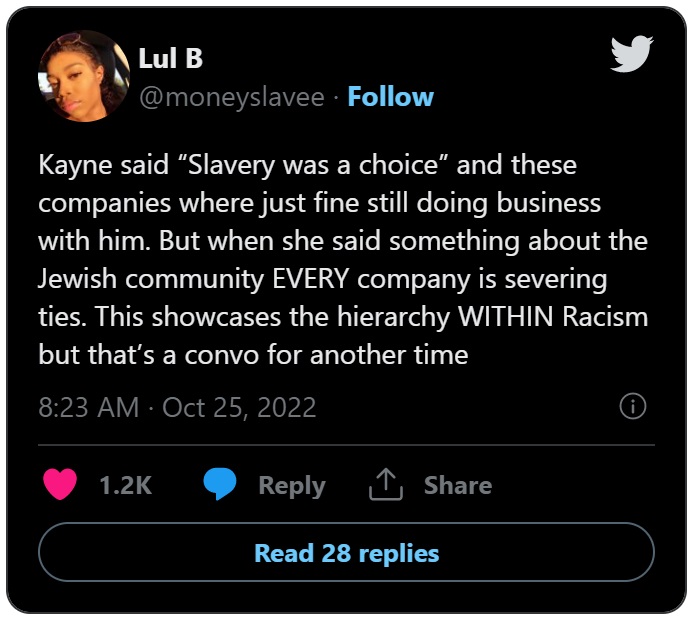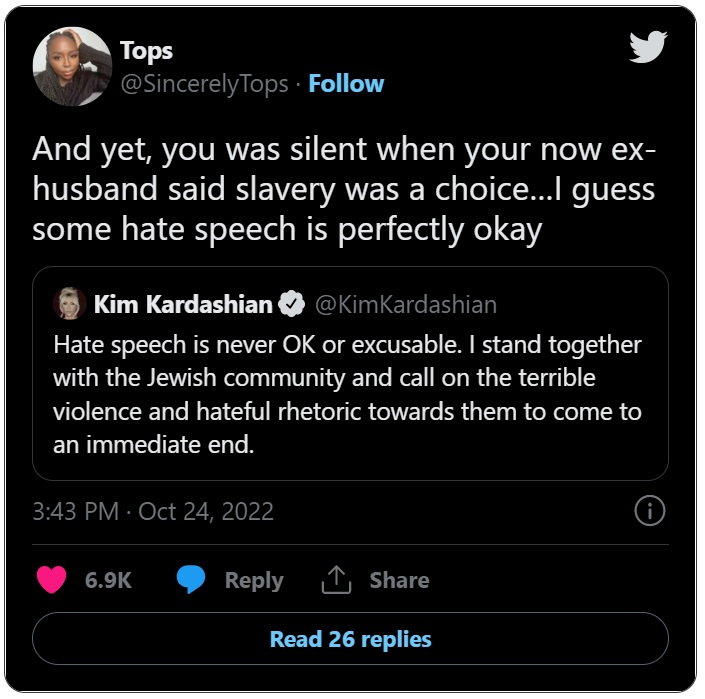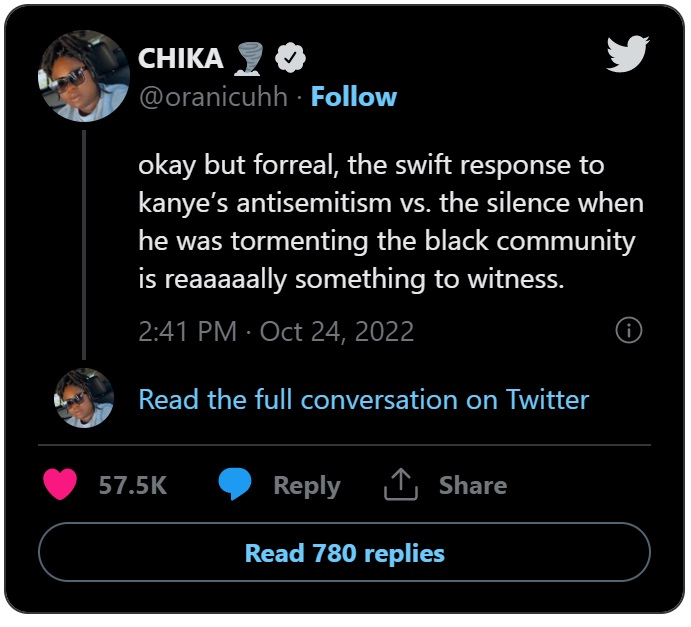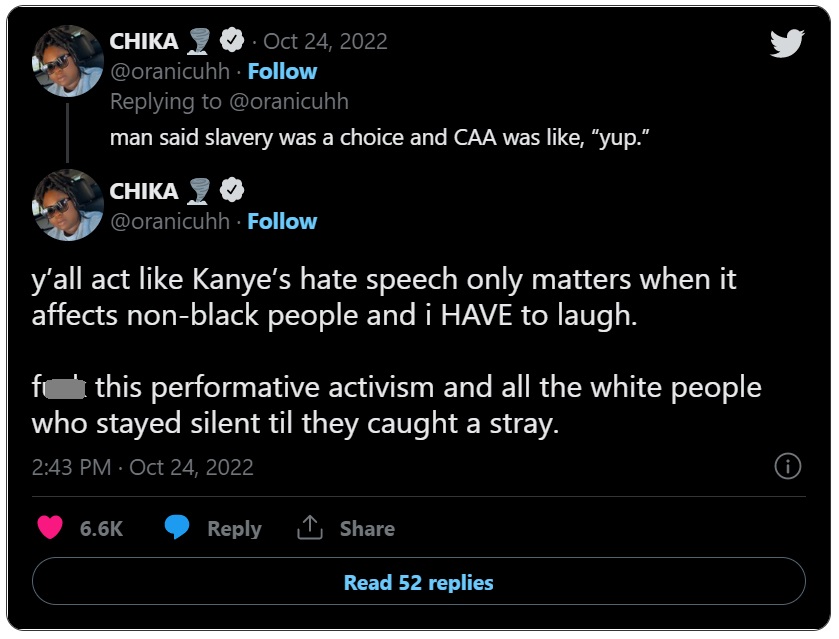 Why didn't all these companies such as Adidas cut ties with Kanye West after his slavery is choice comment? Is there subliminal racism hidden within the reactions? It seems many people believe Kanye's comments about slavery were just as bad as his comments about Jewish people, but the reactions from corporate America and celebrities conveys otherwise, which some people see as a problem within the problem.