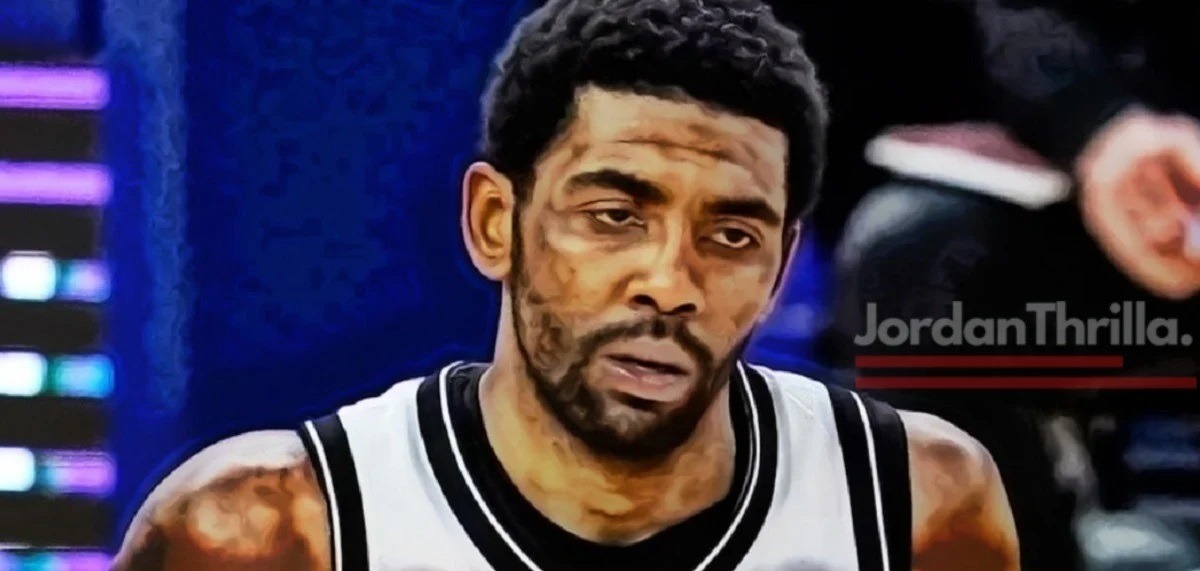 When the news came out that Nets GM Sean Marks banned Kyrie Irving from Nets for not being vaccinated, many people on social media began to wonder what his future with the Nets would look like. In the strange world we live in now making personal decisions about your own body, and what substances you want to put inside it, comes with public ridicule and people trying to take away your livelihood. Not surprisingly it's possible a major attack on Kyrie Irving's livelihood has began.
Is the NBA Planning to Blackball Kyrie Irving for Refusing to Get Vaccinated?
A Recent report from Shams Charania alleges that Nets will no longer offer Kyrie Irving a contract extension. At the moment this isn't much of a big deal considering that another team with no vaccine mandated cities would likely sign him when his Nets contract is up. However, there's a viral conspiracy theory that the process of the NBA blackballing Kyrie Irving has began.
Now that may seem far fetched, but in the past the NBA has allegedly done this to players who disrupt the norm. For example the Muslim NBA player Mahmoud Abdul-Rauf was allegedly blackballed out the league in the 90s after he protested the National Anthem.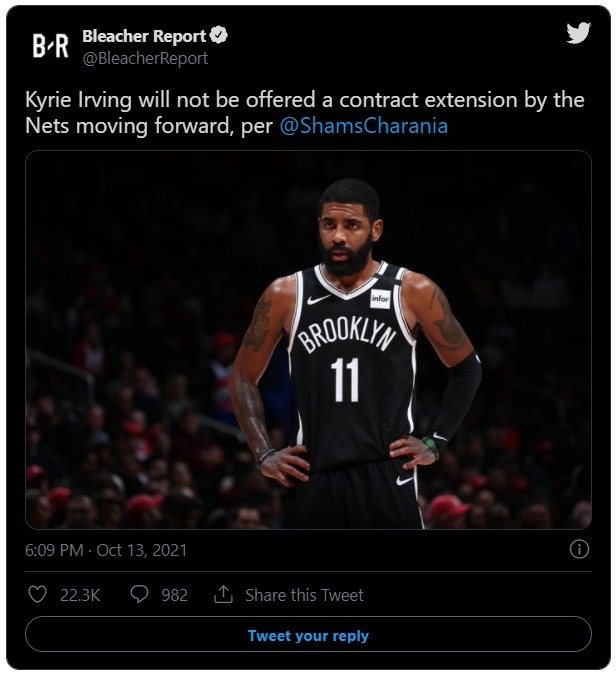 What's happening to Kyrie Irving is exactly what Andre Iguodala talked about when he spoke out in support of Andrew Wiggins when he was refusing to be vaccinated too. It just doesn't seem right to assassinate people's characters and affect their livelihood, simply because they don't want to put the COVID-19 vaccine in their body.
Interestingly enough there is new data that suggests vaccine mandates could be doing a disservice in terms of stopping the spread of COVID. Recent data from the United Kingdom PHE Covid Vaccine surveillance report shows that a double-vaxxed person is much more likely to contract COVID-19 than an unvaccinated person.
How Many Years Are Left on Kyrie Irving's Nets Contract?
This season Kyrie Irving is set to make at least $34,916,200 not taking into account the money he will lose by missing games. After this season Kyrie Irving has one more year on his Nets contract before he would become an unrestricted free agent. If the rumors are true, Kyrie Irving will not be a Nets player by the 2023-24 season.
If the NBA is blackballing Kyrie Irving we would find out for sure then if no other team signs him, and he hasn't been traded by then.
Why is Kyrie Irving Refusing to Get Vaccinated?
A new report alleges Kyrie Irving is hoping to be a "voice of the voiceless" in the war against Vaccine Mandates. It's alleged that Kyrie Irving isn't an anti-vaxxer, but rather he is against vaccine mandates. It's alleged he feels very bad about people losing their jobs only because they didn't want the COVID-19 vaccine. If that rumor is true, that shows how great of a person Kyrie Irving is, when you put the situation in context.
There are people out there who don't have that wealth built up to refuse taking the vaccine like Kyrie, and still love comfortably without a job. Those individuals are forced into injecting themselves with a substance they don't want in their body, that can have potential fatal side effects, just so they can keep making money to feed their families. Almost all of these people would be at almost no risk of dying from COVID.
The craziest thing about the vaccine mandates is that recent data from the United Kingdom PHE Covid surveillance report shows that a double-vaxxed person is much more likely to contract COVID-19 than an unvaccinated person.
Author: JordanThrilla Staff