Lil Boosie, the rapper who has been one of the most outspoken critics of homosexuality and LGBTQ rights, has been spotted at a gay pride parade in downtown Baton Rouge, Louisiana. Well, not really. The images that have been circulating online are actually generated by artificial intelligence (AI), but they look so realistic that many people have been fooled or amused by them.
The AI images show Lil Boosie smiling ear to ear in different outfits as he celebrates with the people holding LGBTQ flags. In one image, he is wearing a white shirt and gold glasses. In another, he is sporting an army shirt unbuttoned to show his chest area. In all the pictures he's rocking some cool looking gold chains.
The images were allegedly created by an online tool called Hotpot.ai, which allows users to generate AI art and images based on text descriptions. The tool uses a technique called text-to-image synthesis, which leverages deep neural networks to transform natural language into visual representations.
The creators of the tool claim that their goal is to "turn imagination into art" and "unleash creativity and express yourself in new ways with the power of AI". However, some users have been using the tool to create humorous or controversial images, such as the ones of Lil Boosie at a gay pride parade.
The images have sparked mixed reactions online, with some people finding them hilarious, some finding them offensive, and some finding them impressive. Some have also questioned the ethical implications of using AI to manipulate images of celebrities or other people without their consent.
The images also demonstrate how far AI-generated images have come in terms of quality and realism. In recent years, researchers have developed various methods to improve the fidelity, diversity, and coherence of synthetic images. Some of these methods include generative adversarial networks (GANs), variational autoencoders (VAEs), and transformers.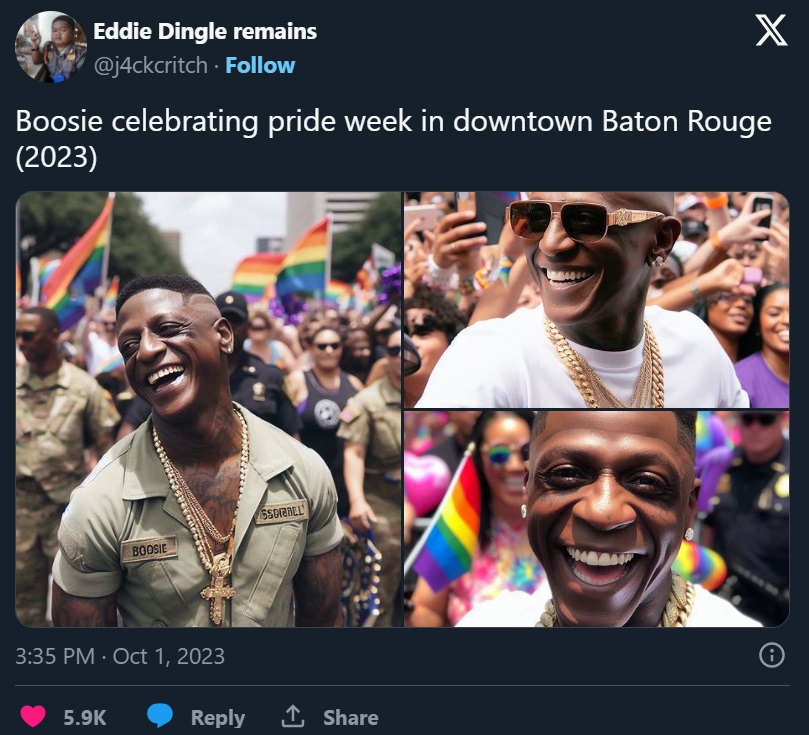 In real life, Lil Boosie would likely never be caught at a gay pride parade, let alone participate in one. He has repeatedly made homophobic comments and threats against LGBTQ artists, such as Lil Nas X and Frank Ocean. He has also expressed his opposition to same-sex marriage and transgender rights.
However, if he ever did change his mind and join a gay pride parade, it would be a historical moment for the LGBTQ community and the rap industry. It would also might be a sign of hope and tolerance for those people who face discrimination and violence, because of their sexual orientation or gender identity.