If you are a fan of hip hop music, you probably know the song "I'll Be Missing You" by Puff Daddy and Faith Evans, featuring 112. The song was released in 1997 as a tribute to the late rapper Notorious B.I.G., who was killed in a drive-by shooting earlier that year. The song samples the 1983 hit "Every Breath You Take" by The Police, with an interpolated chorus sung by Evans and an interpolated rhythm.
Did you know that Puff Daddy, also known as P Diddy, pays a whopping $5,000 a day to Sting, the lead singer and songwriter of The Police, for using his song without permission? That's right, Sting owns 100% of the publishing rights to "I'll Be Missing You", and he reportedly earns $2,000 a day from royalties for the track.
This was revealed by P Diddy himself in a recent tweet, where he corrected a previous report that claimed he was paying Sting $2,000 a day. He wrote: "Nope. 5K a day. Love to my brother @OfficialSting!". The tweet has since gone viral, with many fans expressing their shock and admiration for both artists.
Why is P Diddy Paying Sting $5,000 a Day?
So how did this happen? Well, according to various sources, P Diddy did not ask for permission to sample "Every Breath You Take" when he recorded "I'll Be Missing You". He later said that he thought he had cleared the sample through his label, Bad Boy Records, but it turned out that they had not done so either. When Sting heard the song on the radio, he sued P Diddy for copyright infringement and won.
However, Sting has never been bitter about the situation. In fact, he has praised P Diddy for creating a beautiful tribute to his friend, and even performed the song with him and Evans at the 1997 MTV Video Music Awards. He has also donated some of his royalties to charities that support families of police officers killed in the line of duty.
P Diddy, on the other hand, has always shown respect and gratitude to Sting for allowing him to use his song. He has called him "a genius" and "one of my favorite artists of all time". He has also said that he does not mind paying him $5,000 a day, because "he deserves it".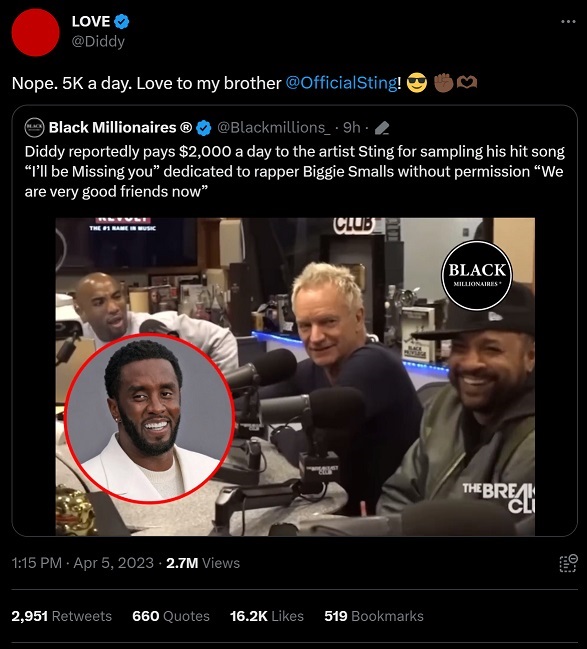 "I'll Be Missing You" remains one of the best-selling singles of all time, with over 10 million copies sold worldwide. It also won a Grammy Award for Best Rap Performance by a Duo or Group in 1998. It is a testament to the power of music to heal and honor those who are gone too soon.