The tragic murder of San Antonio rapper Adam Glass, also known as Glizzy, has shocked the local community and sparked a manhunt for the suspects. Glass was shot and killed while he was getting a haircut at a barbershop inside North Star Mall on Sunday afternoon.
According to San Antonio Police Chief William McManus, surveillance footage revealed that a car dropped off two unknown suspects wearing black hoodies, and fled the scene in the same car after the shooting. No arrests have been made so far, and the motive for the killing remains unclear.
Why is Glizzy aka Adam Glass' GoFundMe Struggling to Raise Funds For His Funeral?
Glass' mother Deidra Whitfield, who set up a GoFundMe page to raise money for his funeral, said that her son was "truly loved by many that he came into contact with and stayed blessed no matter what obstacle came his way" . She added that "if he didn't have it, he made sure you did" and that he was "passionate about making his music" .
However, the GoFundMe page has been struggling to reach its goal of $30,000. After being up for over 48 hours, it has only raised $515. A second GoFundMe page also made by Glass' mother titled "Adam Glass Community", has raised no money over the past 15 hours. It's possible that Glizzy's past may be making people reluctant to donate to his family to help with his funeral expenses
Glass was an aspiring rap artist who had an alleged criminal history, and past ties to the Bloods gang. He was allegedly serving a 56-month sentence at a halfway house in San Antonio for a past gun charge. He described himself as "a man of God" on his Instagram account, where he posted videos of his music and his family. He also had a YouTube channel with over 13,000 subscribers.
Is his alleged criminal past and gang ties making people feel like his family doesn't deserve donations for his funeral costs? Or could it be that not many people are aware there is even a GoFundMe page dedicated to him?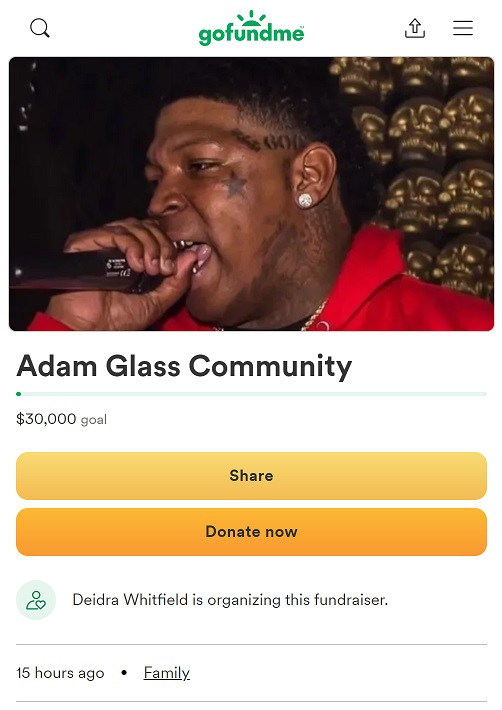 Meanwhile, some community activists are working to mentor at-risk youth and steer them away from gangs and crime. Bennie Price, founder of Big Mama's Safe House, a non-profit organization that provides tutoring, employment training, housing assistance, and food support to young people, said he wants to address the root problems of gun violence, such as poverty, low education, and single-parent homes.
The death of Glass is another example of the gun violence that has plagued San Antonio in recent months. McManus said that there has to be accountability for those who commit crimes and that the police are working hard to solve the case. Meanwhile, a community rally is being held on June 9 to protest the latest incidents of gun violence and to promote peace and nonviolence.