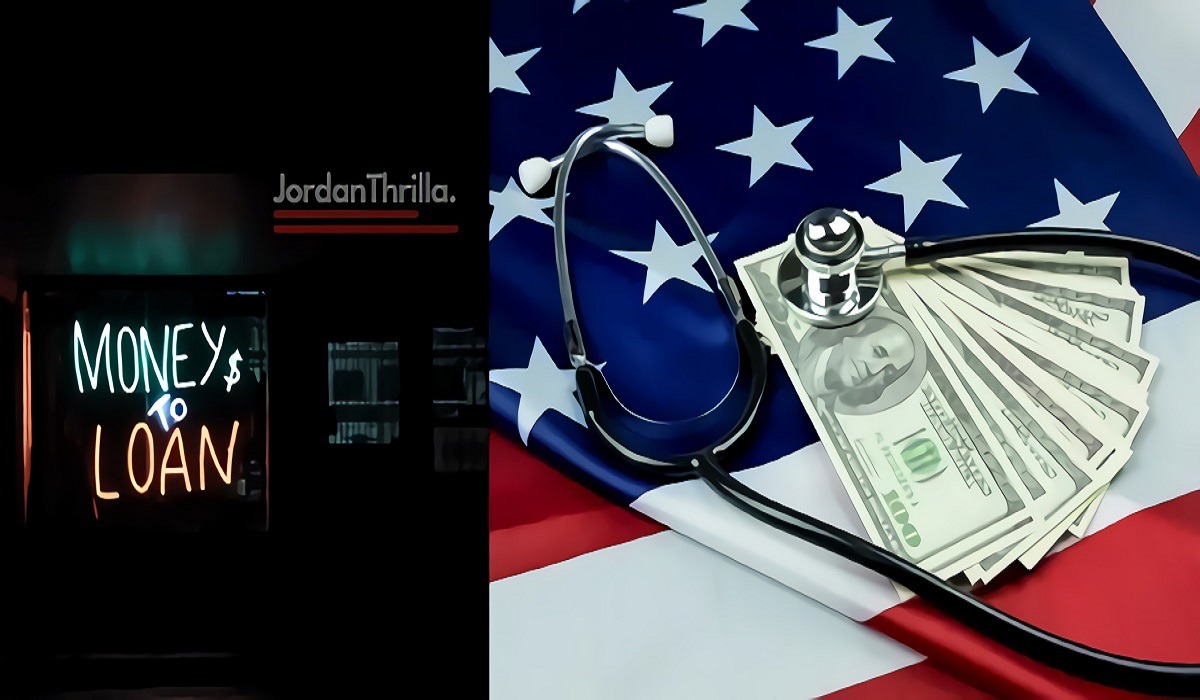 PPP Loan fraud has landed many people in hot water since the program began during the COVID Pandemic. Most recently Pretty Ricky's Baby Blue was sentenced to 20 years prison for the obtaining $426,717 by using false information and documents, then later doing the same thing again by obtaining $708,065 through his Blue Star Records LLC. With the reality of his situation closing down on him, it's alleged Pretty Ricky's Baby Blue made a bold claim that he knows other celebrities who got PPP Loans through alleged PPP Loan Fraud.
What is a PPP Loan?
A PPP loan stands for the Paycheck Protection Program established by Federal Government in 2020 to help businesses strangled by the Coronavirus pandemic. The government set $953 Billion aside to support this part of the CARES act.
What people learned is that they could scam the government by setting up fake businesses with fake workers, or by using false information about a current business they own to receive a massive paycheck through the PPP loan program.
However, months later they also learned that the FEDS are always watching when they ended up suffering the fate Pretty Ricky's Baby Blue did.
Details on How Some Celebrities that Got PPP Loans Get Caught Doing PPP Loan Fraud
According to tax professionals there are few key details that people seem to overlook when committing a PPP Loan fraud scheme.
If you filed for PPP loans prior the February 21, and you didn't have real business on your Tax return there is a high chance FEDS are coming for you.
Many people who filed PPP loans last year didn't check the paper work loan companies were putting in for them. Loan companies were required by law to list that your business whether fake or real was making at least $100,000 in net income to get approval for a $20,000 PPP loan. FEDS are easily able to see that you didn't really make that amount in net income when you have to file taxes, but many people didn't even know their fake business was listed as making $100K net income.
When submitting a PPP application loan companies had to also submit a legal tax documentation in the form of a Schedule C form, which is filed alongside a 1040 form during Tax time. This is another easy way FEDS are catching PPP fraud, since they can also detect if you don't file that Schedule C form.
If you are on disability, Section 8, or any type of government assistance and put in a PPP application the government will easily be able to detect fraud due to a new linkage system that connects all government assistance program networks. Many people who got fraudulent PPP loans were already on government assistance, so the FEDS are probably already on to them even if they don't know it yet.
Pretty Ricky's Baby Blue, and many others got caught by the FEDS due to one of the above reasons.
Some Pictures of Scammers' PPP Loan GoFundMe Campaigns To Avoid FEDS Sending Them to Jail
When FEDS started cracking down on PPP Loan fraud celebrities weren't the only people affected. Most of the people getting arrested were the average people income and fame wise, so their stories just didn't make headline news.
Many middle class people were seen making GoFundMe campaigns after the FEDS caught on to their PPP Loan fraud schemes.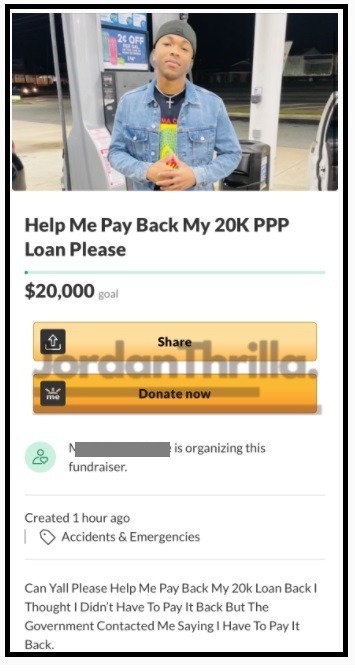 A Detailed List of Celebrities That Got PPP Loans
As aforementioned Pretty Ricky's Baby Blue allegedly said he knows other celebrities that got PPP Loans, and committed fraud. This list below isn't accusing these celebrities of PPP Loan fraud, but rather we are just listing some that we know received government funds from the CARES Act Paycheck Protection Program.
Based on extensive research, here is the list of celebrities that got PPP loans.
Kanye West
First on the list is Billionaire Kanye West who got a millions in PPP Loans back in early 2020 for his myriad of companies. Since he hasn't been nabbed by the FEDS, it might be safe to say his loans were legit.
Jeff Koons
Second on the list is Jeff Koons who allegedly got around $2 Million in PPP Loan money. Jeff Koons is known as one of the richest artists in the world, most known for his sculptures of everyday objects.
Pearl Jam
Third om the Celebrities that got PPP Loans list is rock band Pearl Jam. They allegedly received around $1 Million in PPP loans through their touring company. This is not surprising, because touring companies where one of the most affected by the COVID pandemic.
Paul Pelosi
Fourth on the list may be a bit surprising. Nancy Pelosi's husband Paul Pelosi received a PPP Loan of around $1 Million. What's crazy about his situation is that he allegedly didn't even know his company applied for a PPP Loan, because he invests "passively". That seems to be a bit sketchy, but no trouble ever came from that.
Elaine Chao
Perhaps even stranger than Nancy Pelosi's husband being on the list of celebrities who got PPP loans, is Mitch McConnell's wife Elaine Chao. According to reports a company her family owns got around $1 Million on PPP Loans, which allegedly saved the jobs of 38 people that worked for her.
Rae Sremmurd
The legendary hip-hop ground Rae Sremmurd obtained $90,595 in PPP Loan money through their touring company Sremm Touring, LLC. That is probably legit since they weren't able to tour and make revenue due to the pandemic.
Mark Wahlberg
As you probably know Mark Wahlberg has company called Wahlburger. Apparently he was able to get around $500k in PP Loans through this restaurant chain.
Other celebrities who got PPP Loans include Jay Z, Robert Kiyosaki, Khloe Kardashian, Reese Wither Spoon, and many more. Seems like the richer got richer with these loans.
Authors: JordanThrilla Staff