The Syrian region was rocked by a violent earthquake on Tuesday. The event was devastating, leaving destruction in its wake. One of the most remarkable stories to emerge from the rubble though is that of a 7 year old girl.
The young girl was found 17 hours after the earthquake, still buried beneath the rubble, shielding her little brother. Miraculously, both of them were pulled out alive and unscathed. This incredible act of courage and resilience has earned the young girl the title of hero. The resilience of the 7 year old girl is remarkable. It is a testament to human spirit and perseverance. She could have easily succumbed to fear and given up, but she chose to fight for herself and for her brother.
The story of the 7 year old girl also highlights the power of faith, believing in a greater power to protect her and her brother from harm. This is a key element of the story, and one that resonates with many people. The bravery of this young girl is an inspiration to us all. She shows us that no matter what the odds, we can still overcome them and emerge victorious. Her courage is a reminder to all of us that we can all find the strength to protect ourselves and our loved ones, even in the most difficult of circumstances. The footage shows how the 7 year old girl used her small arm to prop up a large rock from crushing her little brother's head.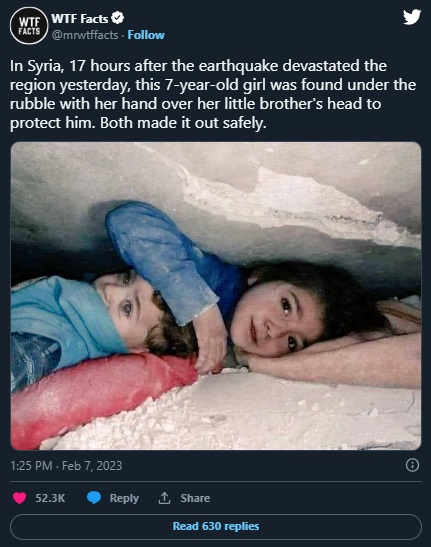 The heroism of this 7 year old girl has been celebrated all over Syria and around the world. People are inspired by her bravery and are taking her courage with them as they try to rebuild their lives and move forward. Prayers up for everyone affected by the devastating natural disaster.