Social media is going in on Roddy Ricch after the hype around his album didn't match the sales numbers. Due to the album's shortcomings on the charts, people pointed back to an alleged quiet beef he and Drake had around the time Certified Lover Boy was being created.
Roddy Ricch 'Live Life Fast' First Week Album Sales Flops After Allegedly Leaking Drake Track Out of Spite
Roddy Ricch's "Live Life Fast' album is expected to sell 64K first week. That number is way lower than most people anticipated. People were almost certain he would get at least beyond 150K mark with his first week numbers, but apparently his fans weren't that enthusiastic about the project.
With the circumstances of Roddy Ricch's 'Live Life Fast' album flopping, people remembered a situation he had with Drake that made it appear he lost his humbleness in the midst of all the success his singles were having. A viral rumor alleges that Roddy Ricch refused to do a track Drake sent him, which would have been on CLB. Instead he allegedly told Drake he would only do the song if it was on his now released 'Live Life Fast' album. When Drake didn't agree to those terms it's alleged Roddy Ricch leaked the Drake song out of spite.
In summary it's alleged Roddy Ricch thought he was hotter than Drake, so he refused to do a CLB track Drake sent him, then leaked the track instead.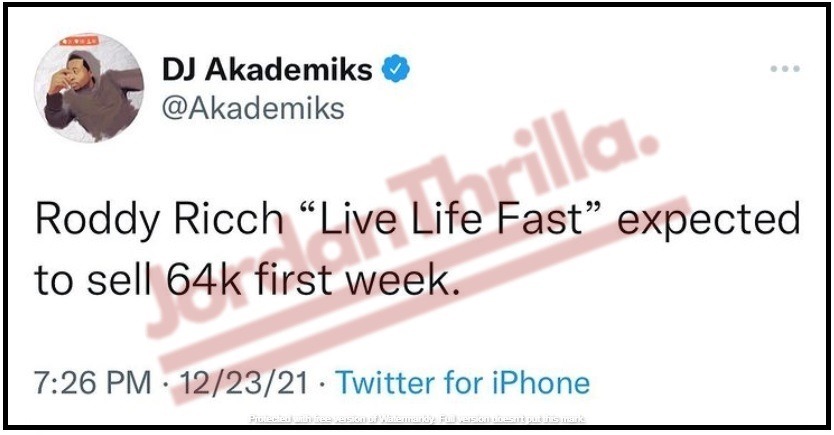 Here is where people allege Roddy Ricch leaked the Drake CLB track out of spite. Theoretically that would ensure it wasn't on Drake's album, since it couldn't be on his 'Live Life Fast' album.
Roddy Ricch's album sales could possibly pick up in the coming weeks, but at the moment it's looking like he may not have been as popular as it seemed. Sometimes lackluster album sales mean people were more interested in hearing a certain song rather than an entire body of work, or it could be the result of bad promo.
Whatever the case may be if the allegations are true that Roddy Ricch tried to one up Drake by leaking that song it backfired in the end.
Authors: JordanThrilla Staff