Some time ago during a Twitch stream DJ Akademiks made some bold claims about Megan Thee Stallion and her relationship with her bestfriend named Kelsey. His words were meant to explain why he believes investigators allegedly didn't find Tory Lanez's DNA on the gun that shot Megan Thee Stallion in her foot. He seemed convey that the shooting was an accident that happened while Tory Lanez was trying to save Megan Thee Stallion from her friend Kelsey.
Back then DJ Akademiks claimed that 30 industry dudes have smashed Megan Thee Stallion. According to him the music industry knows she gets around. He alleged that one of the victims of her alleged rampant promiscuity was her bestfriend named Kelsey. DJ Akademiks claims that Megan Thee Stallion stole 4 men from Kelsey including Tory Lanez, which leads up to the shooting that happened.
We all know that on the night of the shooting Megan Thee Stallion and Tory Lanez were at Kylie Jenner's house at some point. DJ Akademiks claimed that Tory Lanez was thinking he was about to come up by trying to smash Kylie Jenner despite the fact he was secretly smashing Megan Thee Stallion. He says no one knew that Meg was sleeping with Tory including her own security team, which is why she wasn't with her security on the night of the shooting.
Based on his story when she realized what Tory Lanez true intentions were at Kylie Jenner's house she became enraged and called him out. However, in doing so he claimed that her bestfriend Kelsey became aware that Megan Thee Stallion was sleeping with Tory Lanez behind her back. Apparently Tory was seeing Kelsey when he started messing with Megan. According to DJ Akademiks before the shooting happened Megan Thee Stallion was arguing with both Tory Lanez and Kelsey. While Megan was mad at Tory, her friend Kelsey was irate that Megan stole another dude from her. This brings us to a major development today via a lawyer with inside information on the investigation regarding what Megan Thee Stallion allegedly did within a 48 hour time period.
Lawyer Exposes Tory Lanez, DaBaby, and Ben Simmons Smashed Megan Thee Stallion Within 48 Hours
Recently it was revealed that Tory Lanez's defense team will officially take the route of trying to prove that is was Megan's friend Kelsey that pulled the trigger. As that news began to trend a lawyer released a video claiming that DaBaby, Ben Simmons, and Tory Lanez smashed Megan Thee Stallion within 48 hours. What's most surprising about that is that Megan Thee Stallion is on the record claiming that she and Tory never hooked up. Take a look at the video, and some reactions.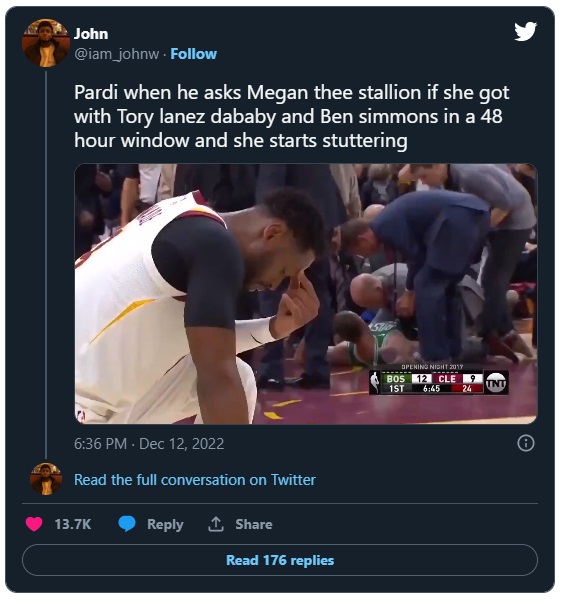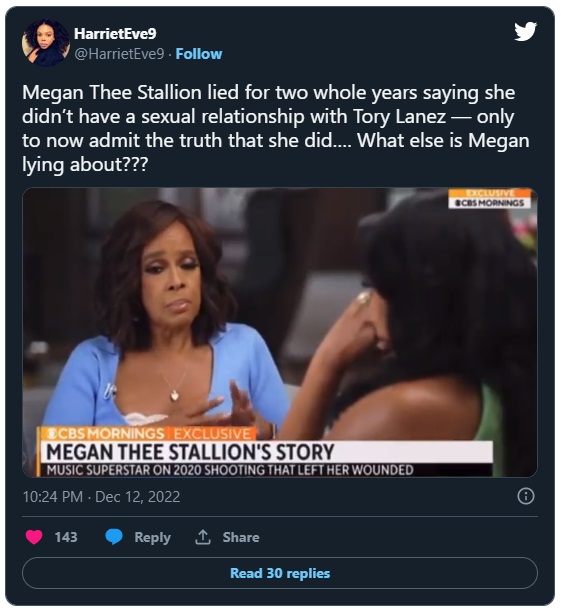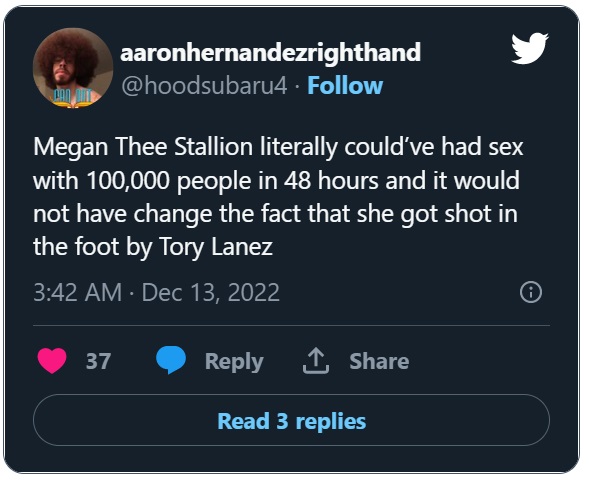 In hindsight DJ Akademiks might have been telling the truth after all, but it's still too early to tell. What's most surprising about this is how people are guilt tripping Megan Thee Stallion for sleeping with three people within 48 hours allegedly.
Some of the same people talking down on her now are also the ones that say her music is empowering and liberating, because it promotes that type of behavior in theory. Now her integrity is being attacked for living out lifestyle she promotes?