A young woman is reeling with emotions after a discriminatory party bus listing. A plus sized woman named Fallon Melillo aka "FallonLindsey" on Instagram, was on vacation with her friends in Miami Beach when they decided to make plans for some daytime partying. Fallon Melillo planned to go to Daer dayclub for a pool party event. They would secure a party bus after purchasing $40 tickets through Spring Break Miami Party Service, then things would turn sour.
Fallon Melillo alleges she was denied entry to the party bus for being too fat. After the incident she discovered that the Spring Break Miami Party Service Eventbrite posting had a "no fat girls allowed" policy for the Party Bus. It literally said,
"Sorry! No big girls for this party".
Fallon Melillo posted a TikTok video detailing how the Eventbrite body shaming posting dampened her vacation.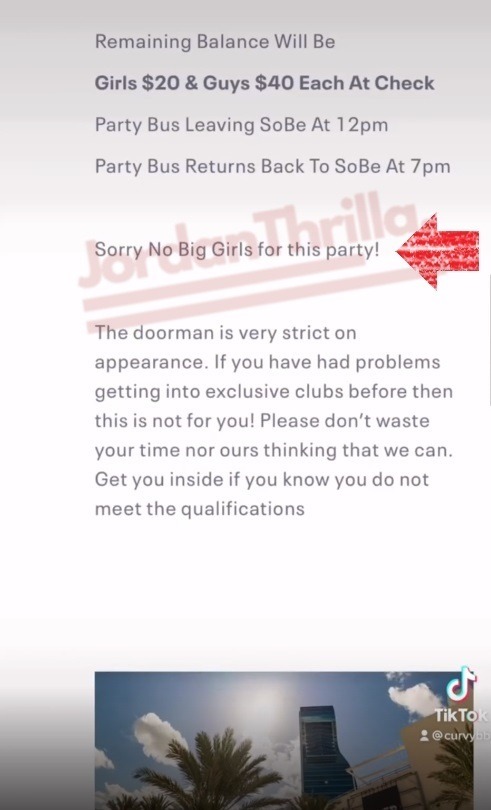 In the end Fallon made it to Daer Dayclub after getting an UBER. She reportedly had no issues getting into the party.
Spring Break Miami Service has already released a statement condemning the "no fat girls allowed" post on Eventbrite, and reiterated it was a third party posting. Eventbrite is platform that facilitates the sales of tickets by allowing people to make posts. Spring Break Miami Party Service connected FallonLindsey with the Eventbrite posting.
Which company does the blame go to for a fat woman being denied entry to the party bus, because of her weight? No one should have to go through that.
Author: JordanThrilla Staff