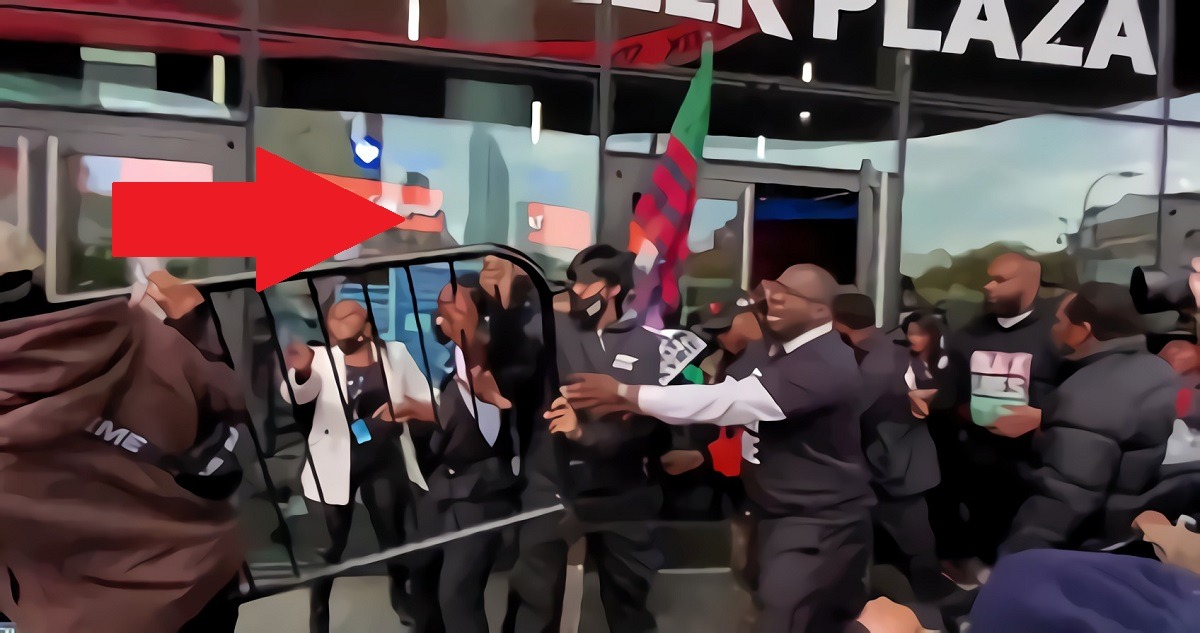 The Brooklyn Nets had a day that can only be described as chaotically interesting. It was the day of their home opener, and with that came an opportunity for the Nets fans and protesters to make their voices be heard about the Kyrie Irving vaccination situation.
Nets Fans and Vaccine Mandate Kyrie Irving Protesters Crash Barclays Center Chanting 'Let Kyrie Play' While Fighting with Security
Viral footage captured the moment Kyrie Irving supporters crashed Barclays Center, and they wanted all the smoke. As the vaccine mandate Kyrie Irving protesters were fighting Barclays Center security guards, they were throwing guarding rails, banging on the Nets arena doors, and chanting "Let Kyrie Irving play".
Kyrie Irving was banned from practicing or playing with the Nets until he gets vaccinated. Rather than going against his personal beliefs about what should go into his body, Kyrie Irving shocked the world when he stood firm on his morals effectively giving up millions of dollars. It's probably one of the most genuine displays from athlete in recent history, in terms of holding personal value above monetary value.
Take a look at Kyrie Irving supporters crashing Barclays Center. The incredible footage was captured by independent photographer Leeroy Johnson.
Before arriving at the Barclays Center the vaccine mandate protesters marched thought the streets of Brooklyn in support of Kyrie Irving.
Kyrie Irving's situation shows many that don't make sense about COVID vaccine mandates. For example Kevin Durant has had COVID multiple times, which means he has natural immunity. An Israel study showed natural immunity provides more protection against COVID-19, than the mRNA vaccines. Kevin Durant still had to be vaccinated under the mandate, which makes no sense.
Also players from visiting teams can be in Barclays arena unvaccinated, which negates the point of not allowing Kyrie Irving to play unvaccinated from a safety standpoint.
How Kyrie Irving's Absence Has Impacted the Nets
The Brooklyn Nets have really felt the pressure of Kyrie Irving's absence from the lineup. In there first 3 games of the season they have a 1-2 record. Their offense has largely been Kevin Durant playing hero ball to keep them in games.
Kyrie Irving was the second best player on the Nets, so KD is now tasked with having to carry James Harden by himself. They got blown out by the Bucks in their first loss, and got destroyed down the stretch by Hornets in their second loss. Their only when came after Sixers squandered a double digit lead away, by getting too comfortable with their lead.
Wit the amount of effort that Kevin Durant is exerting just to keep his team in games, it's worrying the toll it can take on his injury prone body. KD is probably hoping that New York revises their overbearing vaccine mandates very soon.
Author: JordanThrilla Staff