Israel Adesanya Trolling Alex Pereira's Son Again in Recent Tweet Fuels Heated Debate
Israel Adesanya is known for his trash talk and mind games, but some think he may have crossed a line with his latest tweet. The middleweight champion retweeted a video of Alex Pereira's son reacting to his father's brutal knockout loss at UFC 287, with a caption saying "I've ruined Christmas 2023".
The video shows Pereira's son covering his face with his hands as if he was crying, while his father lay unconscious on the canvas after being hit by a vicious left hook in the second round. It appeared that Adesanya pointed at Pereira's son as he was trying to digest seeing his dad laying motionless on the canvas. The knockout was a revenge for Adesanya, who had lost to Pereira multiple times in previous fights.
Why Does Israel Adesanya Have Beef with Alex Pereira's Son? The Alleged Backstory
Adesanya's tweet has sparked a lot of backlash from fans, who accused him of being disrespectful and insensitive. For example as you'll see below one Twitter user wrote, "A great champion would never be happy that the kids were devastated cause their dad got ko. But you're just a bump with a bit more talents then ordinary people. Now you can get yourself a good nail polish treatment. You deserved it".
However, others are defending Adesanya, basically saying that the situation comes with the territory of being in a dangerous profession. Also they pointed out that there is allegedly more to the story than meets the eye. There are rumors that Alex Pereira's son now 10 years old had disrespected Adesanya about 5 years ago, then again last year. A competitor like him doesn't forget when people don't people put respect on his name.
One Twitter user speaking in his defense wrote, "Alex and the kid were literally disrespecting Izzy again last year for that either way, 5 or 12. Dude deserved a spanking, clearly hadn't learnt his lesson until Izzy showed him yesterday".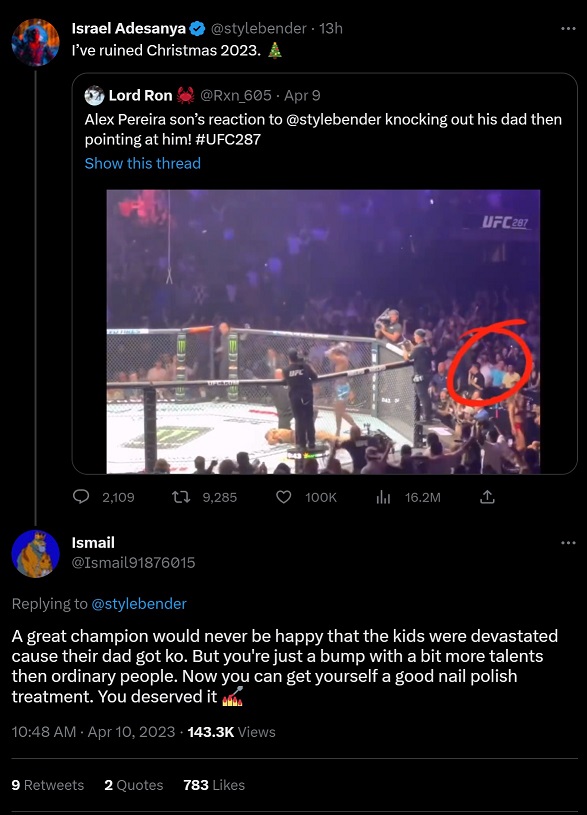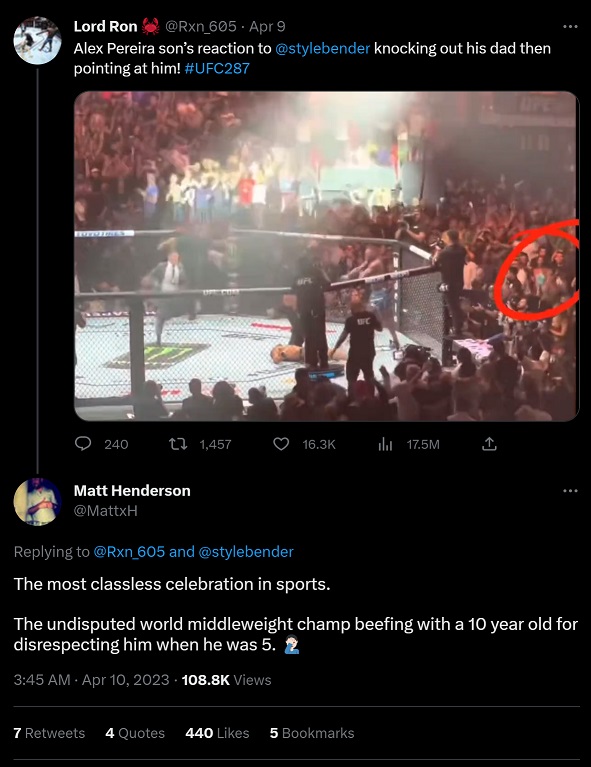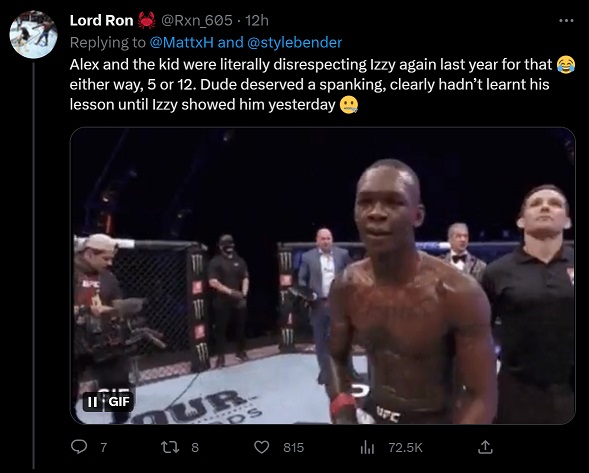 Pereira himself has not commented on Adesanya's tweet yet, but he did post a message on Instagram thanking his fans for their support and promising to come back stronger. On the night of the also congratulated Adesanya on his victory, and said that he respected him as a fighter, so there didn't seem to be any bad blood between the competitors.
What do you think of Adesanya's tweet? Was it just a harmless joke or a cruel taunt? Is it strange for him to possibly be beefing with a 10 year old?