The Los Angeles Lakers defeated the Memphis Grizzlies 128-112 in the first round of the NBA playoffs on Sunday night, thanks to a balanced scoring attack led by LeBron James and Anthony Davis. However, one of the most memorable moments of the game came from the legendary Austin Reaves.
Reaves, who was undrafted out of Oklahoma, has been a pleasant surprise for the Lakers this season, providing energy, defense and scoring that catapulted him into a starting job. He was especially impressive in Game 1 against the Grizzlies, scoring an efficient 23 points, including 3-of-5 from beyond the arc.
What really caught the attention of fans and social media was his confidence and swagger on the court. The NBA had Reaves mic'd up for the game, and during one sequence in the fourth quarter, he hit a deep three-pointer and shouted "I'm Him!" as he ran back on defense.
The clip went viral because of Reaves' country Arkansas accent, which seemed stronger than ever in that moment. It also showed his fearlessness and self-belief, as he was playing alongside two of the best players in the world in James and Davis, and still felt like he was the best player on the court. On social media NBA world responded by agreeing as "He's Him" went viral at the same time as "I'm Him". Mark Jackson donned him with the nickname "Austin Powers" as he let the world know how he was in the zone.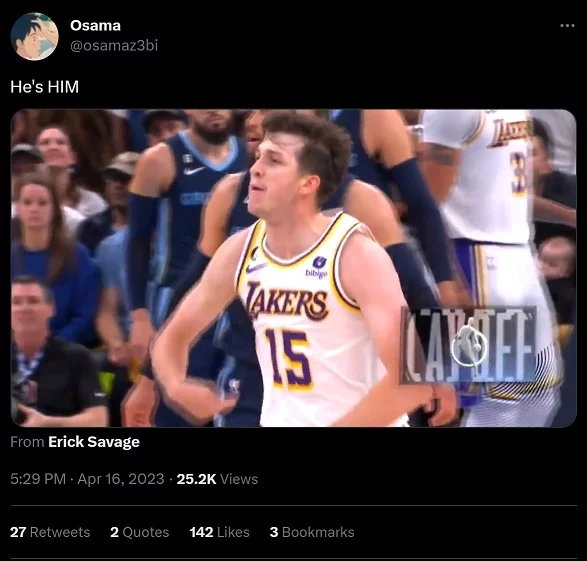 Reaves' "I'm Him" moment was one of the highlights of a dominant performance by the Lakers. James had 21 points, 11 rebounds and fiver assists, while Davis added 22 points, twelve rebounds and six blocks. The Lakers shot 53 percent from the field and 43 percent from three-point range, while holding the Grizzlies to 47 percent and 36 percent respectively.