Did the NBA blackball Jeremy Lin? Jeremy Lin's professional basketball career has come to a sad end, and it seems he feels he was forced out. In a lengthy message to the world Jeremy Lin retired from basketball, and explained the reasons behind his emotional decision. Throughout the open letter Jeremy Lin called out NBA for never giving him a fair chance.
Jeremy Lin detailed how he watched players around him get numerous contracts and opportunities despite the fact that he was dominating in G league, and leading his team to wins. He averaged 19 ppg for the Santa Cruz Warriors. Jeremy Lin was hoping to land just one 10 day contract to prove himself in the league again, but is now left confused as to why that opportunity was never afforded to him.
In essence it seems like Jeremy Lin was blackballed by the NBA, and he used his retirement message to expose the situation to the world. It's possible that it could be related to him exposing that some G-league players made racist remarks towards him, which possibly took money out NBA owners' pockets in the form of bad press.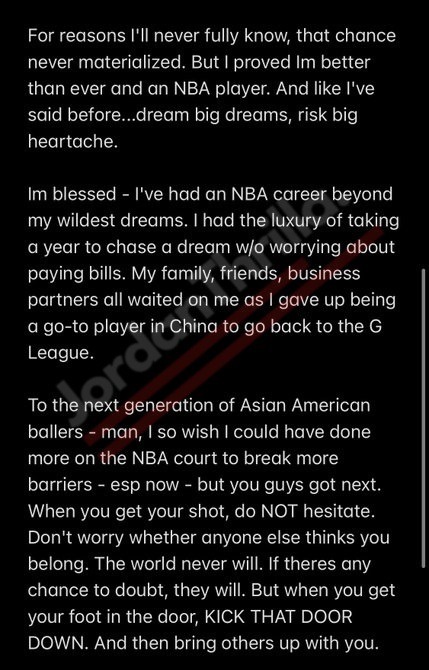 It seems like the Linsanity era in New York was just yesterday, now Jeremy Lin is retiring at only 32 years old.

Jeremy Lin has a degree from Harvard, so there is no doubt he'll be able to use the money he has and start another successful chapter of his life. Who knows maybe Jeremy Lin's retirement rant exposing the NBA will get him that 10 day contract offer he was waiting months for.
Jeremy Lin breaking barriers in the NBA during an amazing career was truly amazing to watch. He is a true basketball legend in your own right.
Author: JordanThrilla Staff