This years Oscars will go down history not because of the event itself, but due to how it in turned into a emotionally heated situation for two superstar actors. Considering it is rumored that Kanye West was cut from performing at the Oscars due to fear of an emotional outburst, they probably should have focused on Will Smith instead.
Why Did Will Smith Punch Chris Rock at the Oscars?
People say stand-up comedy or planned roast sessions shouldn't be taken to heart, but there are times when the jokes just cut a little too deep when you've been through an emotional situation with the target of the comments. This led to the viral situation that was the result of Chris Rock making a joke about Jada Pinkett Smith.
Out of nowhere after walking onto the stage with confidence Will Smith punched Chris Rock right in his jaw. After he sat back down he yelled "Keep my wife's name out your f****** mouth". Chris Rock looked stunned and bewildered as he said, "Oh wow wow" about what had just taken place. You could hear embarrassment and fear in his voice. There is still some debate about how real the punch actually was.
Details on why Jay Z and Beyonce's Reaction to Will Smith Punching Chris Rock after Jada Pinkett Smith Joke is Trending
When a monumental Hollywood moment like this takes place one of the best parts about it is seeing people's reactions in the very moment as it happens. In this situation the reactions didn't disappoint, but it was hip-hop royalty that stood out most. Social media can't get over Beyoncé and Jay Z's reaction to Will Smith hitting Chris Rock right in his jaw. Jay Z had a look of shock on his face, while Beyonce seemed to be enjoying the unexpected action. Jay Z probably had flashbacks of Solange in the elevator.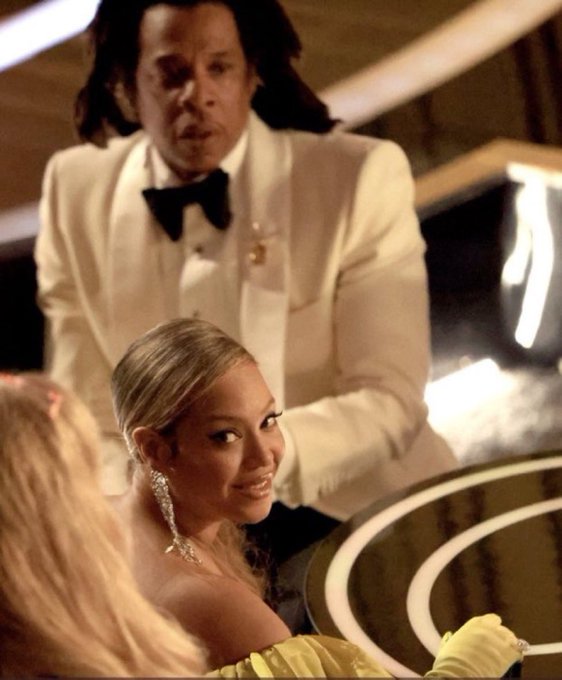 Details on Why Will Smith Could Get His Oscar Taken Away
According to reports Will Smith could get his first Oscar award taken away after a review by the Academy. His actions apparently violated their code of conduct, which isn't surprising all things considered. Hopefully they look past this moment, because Chris Rock's joke about Jada Pinkett was a bit unnecessary, although the punch was too.