In a surprising move, the Golden State Warriors traded Jordan Poole to the Washington Wizards as part of a deal to acquire Chris Paul. Many people believe that Poole, who had signed a lucrative contract extension with the Warriors last year, was apparently not happy with his former team and especially with Draymond Green.
Why Did Jordan Poole Unfollow Draymond Green on Instagram?
According to a viral rumor, Poole unfollowed Green on Instagram shortly after the trade was announced. This seems to confirm that the two players never repaired their relationship after Green punched Poole in the face during a practice session before the 2022-23 season.
The incident, which was caught on video and widely circulated online, showed Green losing his temper and hitting Poole with a right hook that knocked him to the ground. The Warriors tried to downplay the altercation, and said that it was a sign of their competitive spirit and passion for the game. They claimed it would have no impact on their championship hopes.
However, Poole's performance and attitude suffered after the incident. He averaged 20.4 points per game, but his shooting efficiency and defense declined. He also clashed with coach Steve Kerr and some of his teammates over his role and playing time. He even clashed with Draymond Green again during Game 6 of their Western Conference first round series vs the Kings. Now when you search for Draymond Green's username on Jordan Poole's Following list, it now allegedly says "no user found".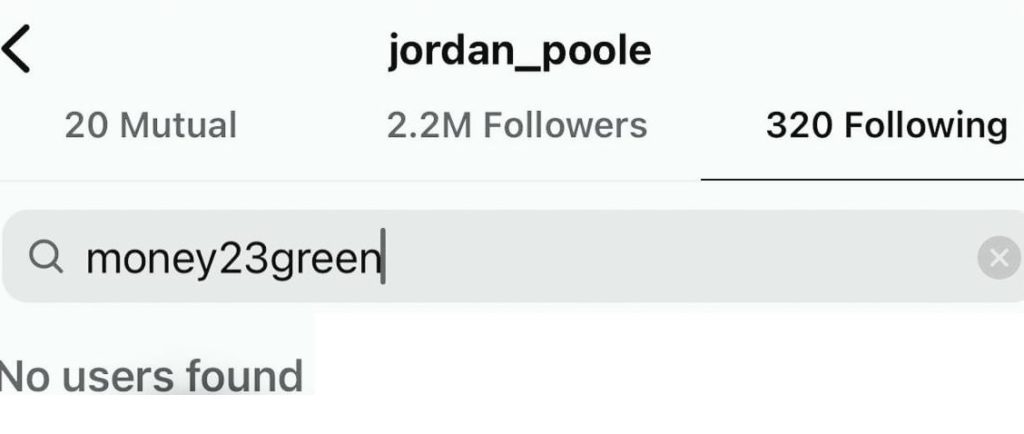 According to some sources, Poole's unfollowing was not a spur-of-the-moment decision, but a calculated move to distance himself from Green and show his displeasure with how he was treated by him and the Warriors. Others claim that Poole's unfollowing was simply a coincidence and that he was just cleaning up his social media accounts after changing teams. However, it's hard to believe it had nothing to do with him getting knocked out.
The Warriors finished the season as the sixth seed in the Western Conference and were eliminated by the Los Angeles Lakers in the second round of the playoffs. Poole expressed his frustration and disappointment with the team's results and his lack of involvement in the offense.
Now, Poole has a chance to start fresh with the Wizards, who are rebuilding after trading away their star players John Wall and Bradley Beal. Poole will likely be one of the focal points of their offense, and have more freedom and responsibility on the court.
Meanwhile, Green remains with the Warriors for now, who hope that adding Paul will help them return to championship contention. Green, who is known for his leadership and defensive prowess, will have to mentor Paul and help him fit in with Stephen Curry and Klay Thompson. However, it's possible that he will also be on a new team soon depending on how his contract situation plays out.