Throughout his career Carmelo Anthony has been a player with many interesting aspects to his persona. Whether it was the jab step, tapping three fingers against his head after making three pointers, or his infamous yell after rebounds, Melo fans had something they remembered most about him. Up until today Lakers fans didn't witness his infamous yell after a rebound, but that all changed in their final preseason game against the Warriors.
Carmelo Anthony Says "I Got it Get the F**k Outta Here" After Rebound For First Time as a Laker
With 9 minutes to go in the first quarter of the Lakers vs Warriors preseason game, history was made when Carmelo Anthony cursed out Lebron James and Russell Westbrook at the same time. While they were all waiting for a rebound, Carmelo Anthony said "I Got it get the f**k outta here" to Lebron James and Russell Westbrook. The funny thing is they weren't even trying to get the rebound, and they still got cursed out.
Since it was Carmelo Anthony's first time saying "I Got it get the f**k out here" as a Laker, it made for a historical moment on social media.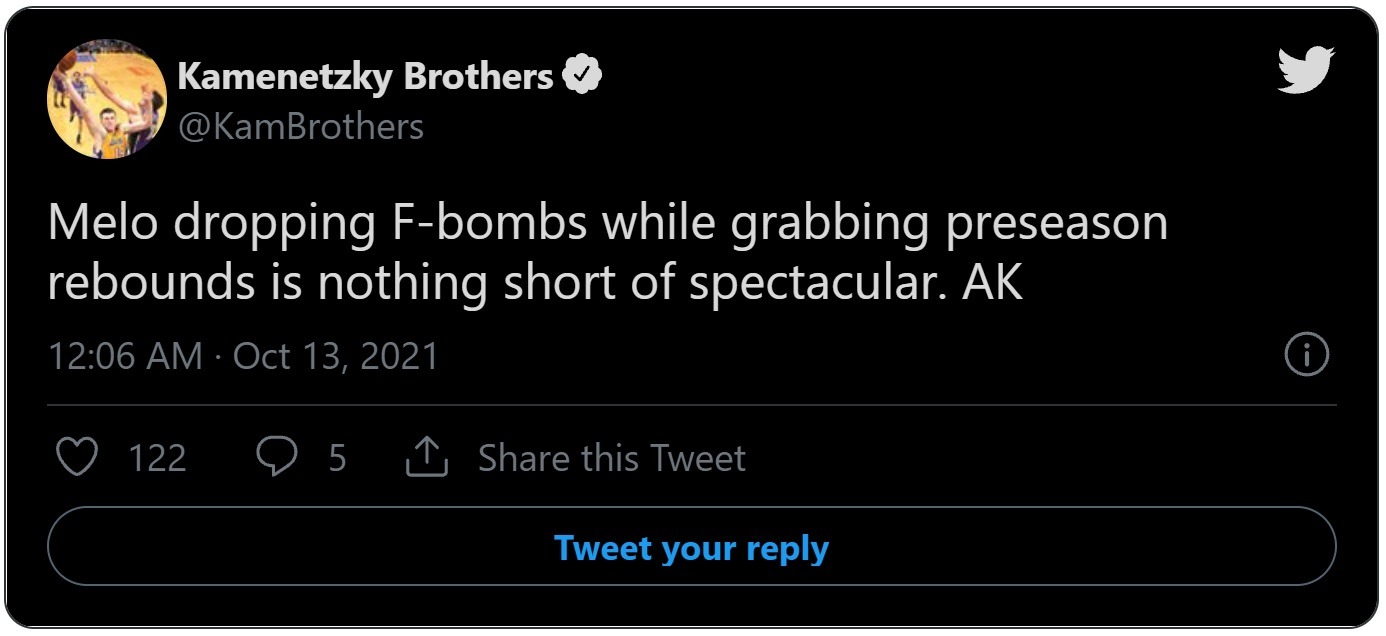 The phrase "I got get the f**k outta here" is to Carmelo Anthony what the Stone Cold Stunner is to Stone Cold Steve Austin.
On the game Carmelo Anthony shot 4-12 from the field, and 2-7 from three point land. He only scored 13 points, making for another inefficient game.
Lakers finished the preseason 0-5, and lost to a Warriors team that wasn't even playing their starters. It's only preseason, but the last time Lakers played this bad in the preseason, they ended up being an 8th seed first round exit.
Will history repeat itself?
Author: JordanThrilla Staff