When Russell Westbrook had a historic night completing a 30 point 20 assist triple double joining only Magic Johnson, many people were impressed except for Stephen A. Smith. Instead he went on a rant explaining how unimpressed he was about about his lack accomplishments in the NBA when it comes to winning titles. In fact Stephen A. Smith said, "I don't give a damn" outright in regard to his special night. In response Russell Westbrook's Wife Nina Earl responded to Stephen A Smith with a series of messages on Instagram calling him out for hating.
What Did Russell Westbrook's Wife Say About Stephen A Smith?
To start off her rant Russell Westbrook's wife accused Stephen A Smith of being negative and hating on her family. She then delved into how people like Stephen A Smith unfortunately have the platform to change the perception of athletes. Then she asked the world the question, "Imagine if Russell Westbrook care that Stephen A Smith didn't care about his accomplishments".
She then pointed how when Russell Westbrook does something good Stephen A Smith is quiet about it, but when he does something bad he will talk all day about it. In essence Russell Westbrook's wife Nina Earl exposed Stephen A Smith to the max.
First take a look at the segment from the Stephen A. Smith's world show, and skip to the 1:44 mark.
Now check out Russell Westbrook's wife going in on Stephen A. Smith with straight facts.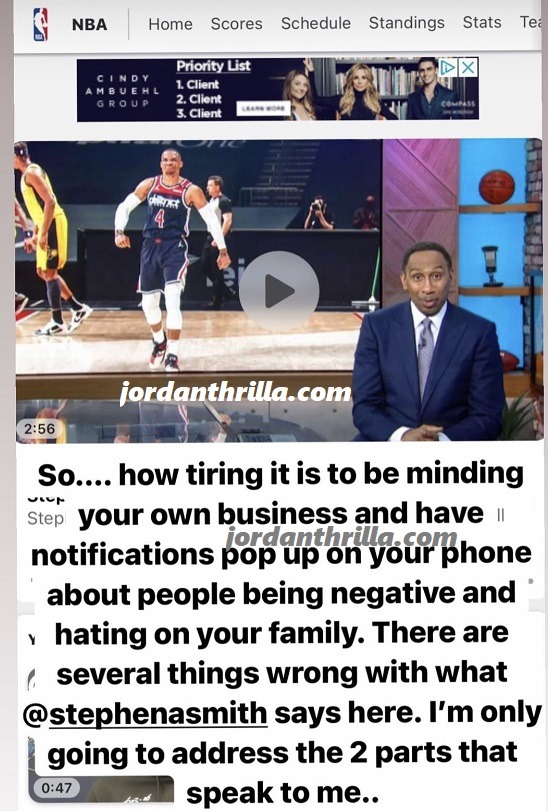 History tells us that Stephen A. Smith will either respond saying he loves Russell Westbrook as a person and apologize, or stand firm behind his comments conveying it was just his opinion. Either way he's going to receive a lot backlash for the things he said disparaging him.
Kudos to Nina Earl for standing behind her husband.
Author: JordanThrilla Staff