By now we all know that Zion Williamson, the star power forward of the New Orleans Pelicans, has been accused of cheating with his girlfriend Ahkeema aka Concrete Rose, who currently pregnant with their baby girl. The accuser was none other than Moriah, an adult film star who claims to have had an affair or some type relationship with Williamson. On social media she goes by @moriahmilly04 and @moriahmillsss. Now social media is fighting to help Zion Williamson in way most people wouldn't have predicted.
Is the MoveOn Petition to "Stop Moriah Mills" Disrespectful?
Over the past few days, Moriah Mills has used Twitter to expose Williamson's alleged infidelity, posting screenshots of text messages that she says were sent by him. In the messages, Williamson reportedly asked Moriah if she wanted to move to New Orleans with him, and how much money he would have to pay her per month. Moriah also claimed that she was late and could possibly be pregnant with Williamson's child.
The scandal broke out shortly after Williamson announced that he and Ahkeema, also known as Concrete Rose, were preparing to bring a baby girl into the world. The two lovers held a gender reveal party, and posted videos from the event on Instagram and YouTube. Their celebration was dampened with accusations of Ahkeema selling CPNs in the past, and of course Moriah claiming that Zion was cheating.
These tweets sparked major backlash, which led to Moriah Mills telling people to block her on Twitter if they didn't want to see her tweets. However, Zion fans had a different technique in mind to hopefully silence her, a MoveOn "Stop Moriah Mills" petition. MoveOn.org is a progressive advocacy organization that mobilizes millions of Americans to take action on various social and political issues.
Founded in 1998 as an email group to oppose the impeachment of President Bill Clinton, MoveOn.org has since grown into a powerful grassroots network that campaigns for causes such as health care reform, environmental protection, civil rights, and democracy. MoveOn.org operates through online petitions, fundraising, voter registration, and education, as well as offline events and rallies. MoveOn.org aims to empower ordinary citizens to make their voices heard and influence the decisions that affect their lives.
Now Zion fans are hoping their "Stop Moriah Mills" petition will gain traction, and save him and Ahkeema from the onslaught of continous tweets. The petition currently has 584 of 600 signatures.
Examples of Some of the Moriah Mills Tweets that Led to the MoveOn Petition
Just in case you might not have seen some of the viral tweets from Ms. Mills, we included some for you. In this tweet she posted a message where Zion told her "love you in these jeans. And I'm gone Ft you in a little bit. So can we talk about you moving".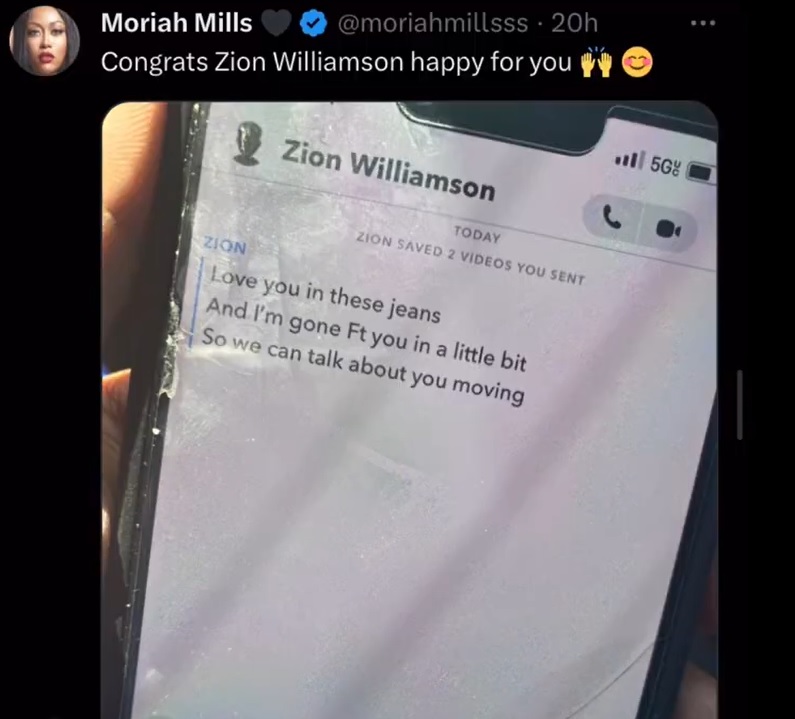 Here he allegedly wrote to her, "I want to fly you wherever I'm at for four days. You sexy asf".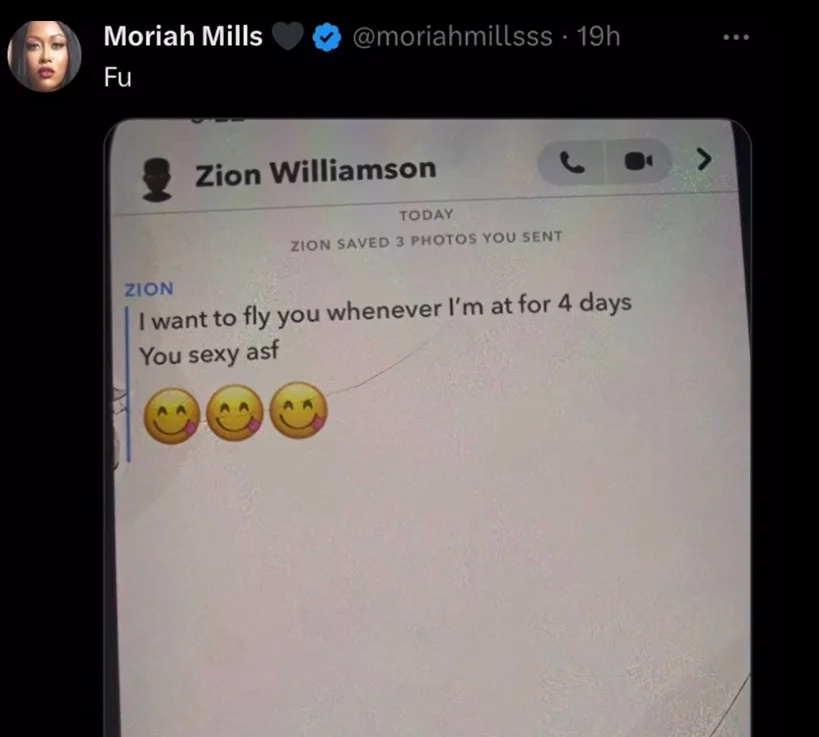 In this text message she wanted to prove that Zion Williamson lied by saying he didn't have a girlfriend. He allegedly wrote, "Bet. I don't have a girlfriend, but if I moved you to New Orleans would you be cool with being like my official? Just asking so I know how to go about the situation with respect".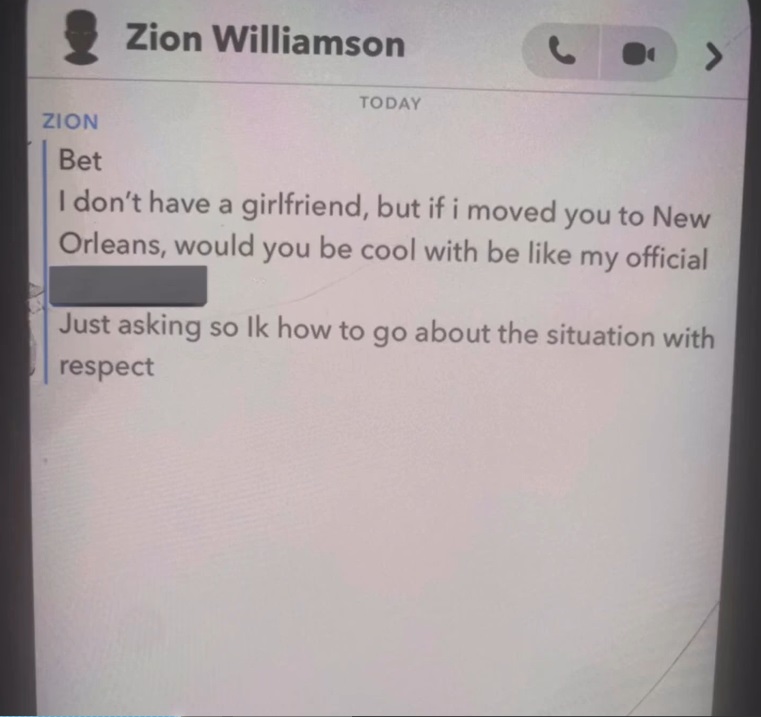 In the text below it appears Zion was asking Moriah about moving expenses, in particular how much she was expecting him to pay her per month. In the text he wrote, "When you move, how much do you expect me to pay you a month, but I'm super excited". Based on the message it's possible zion was really out here tricking, but like they say "it ain't tricking if you got it" right?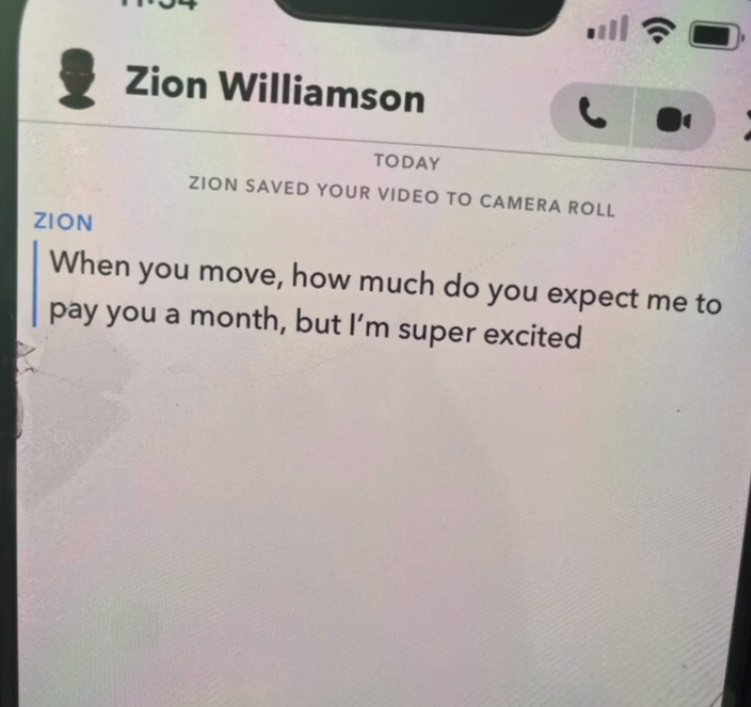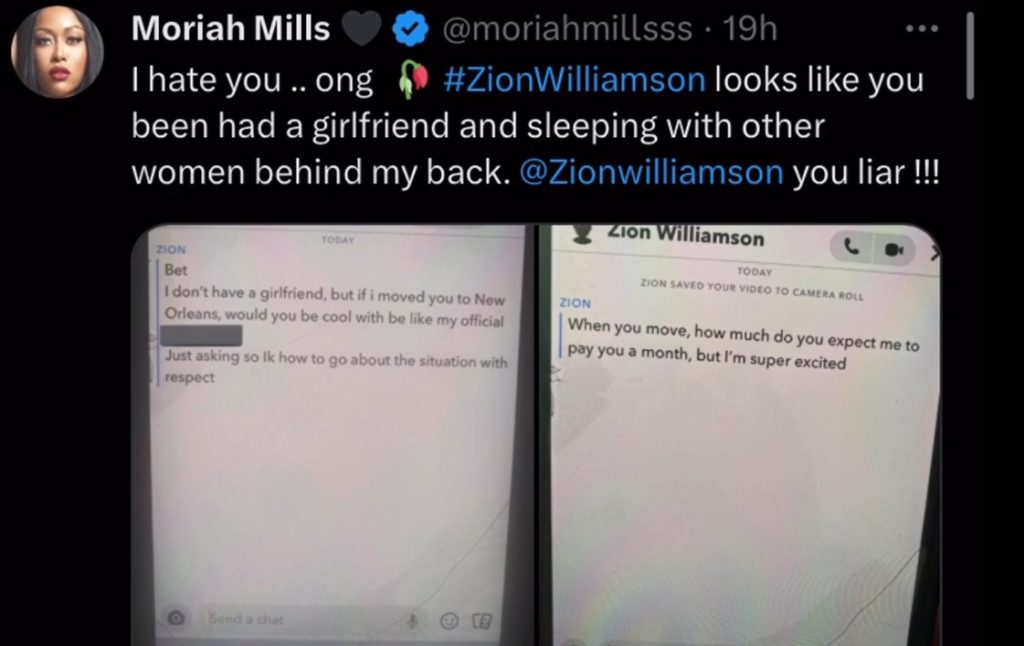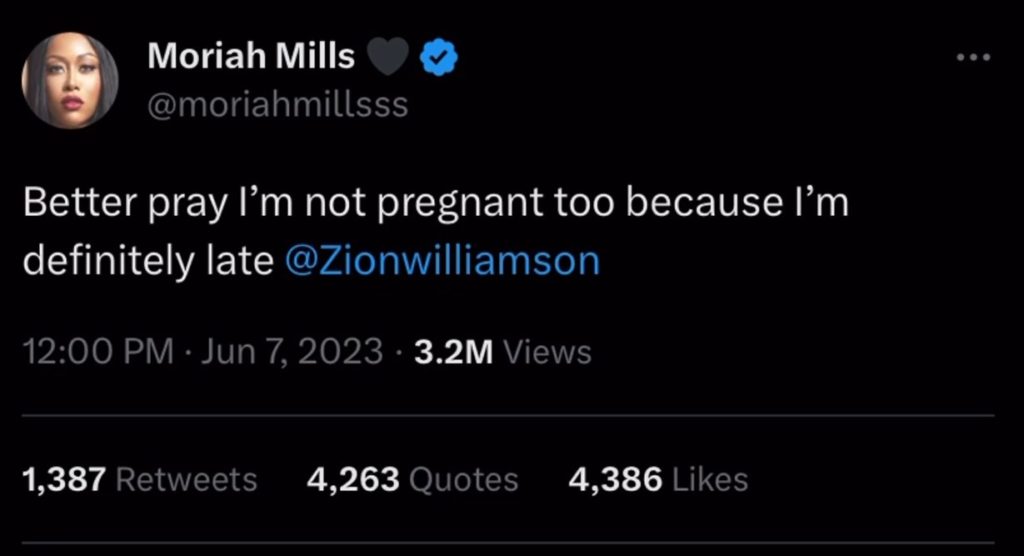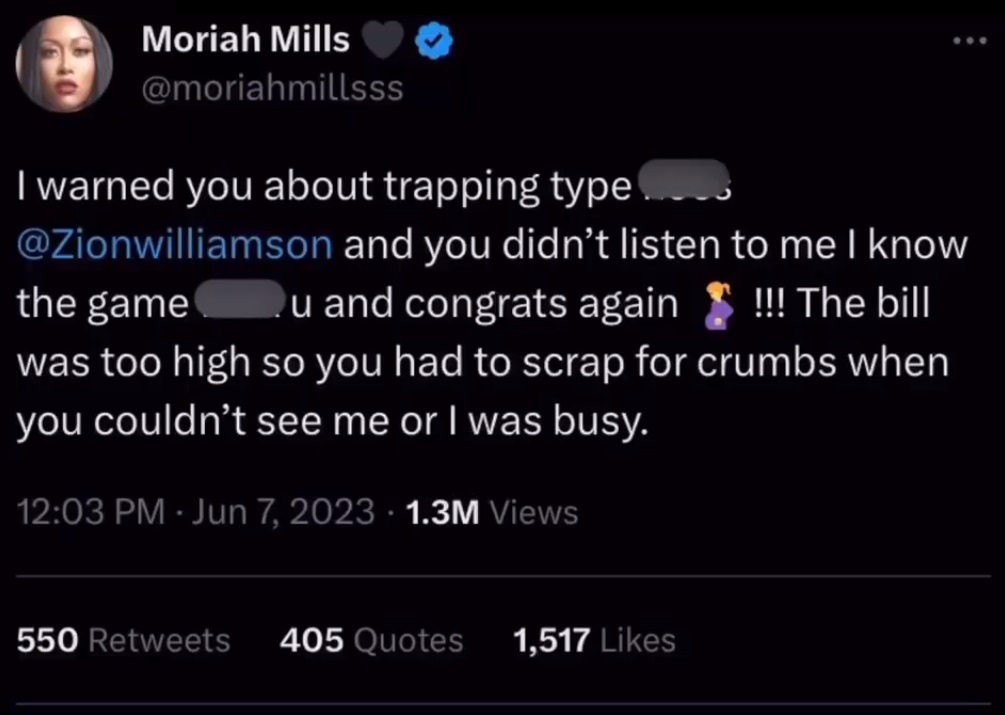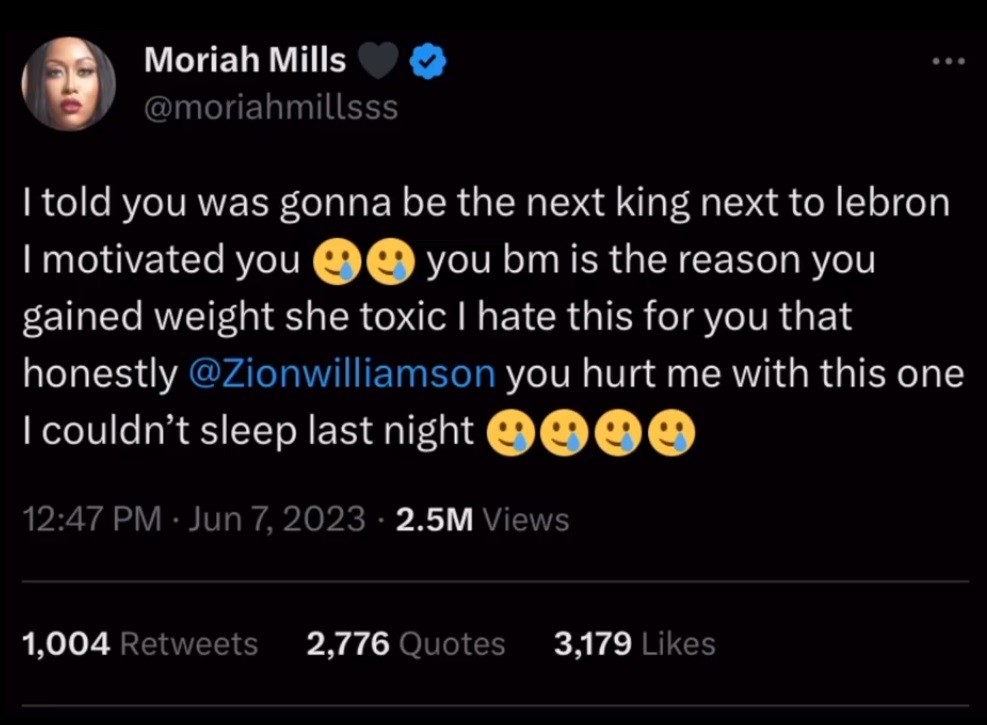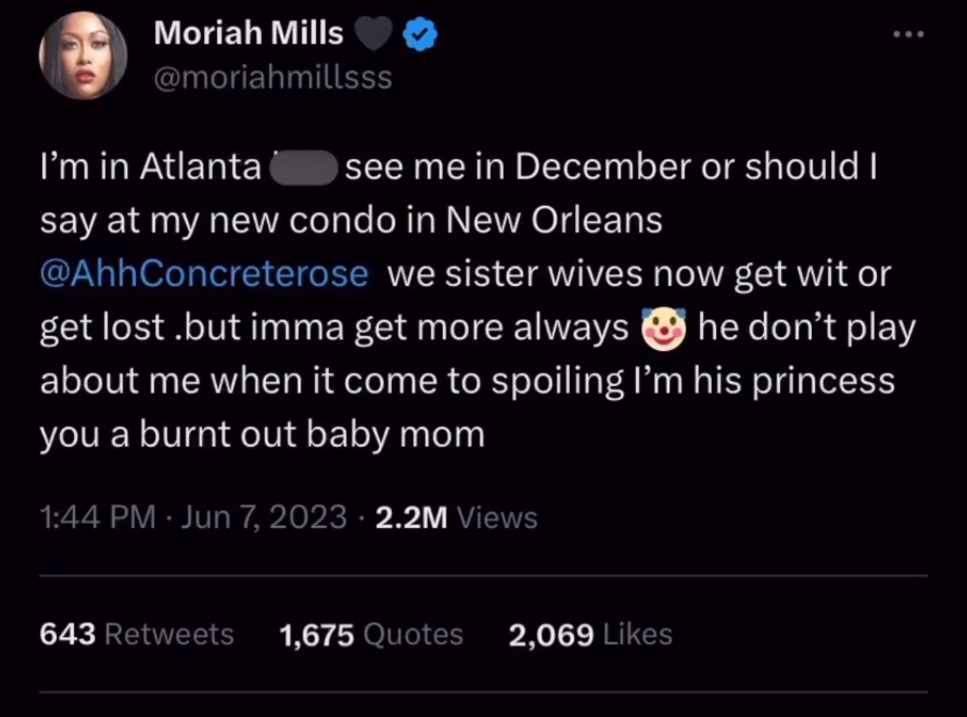 While many people are supporting that "Stop Moriah Mills" MoveOn.org petition, there also many people who think it's disrespectful and insensitive to her situation. Those people feel that she has the right to vent on social media, because if what she is saying is true then Zion really did do her wrong.