Jayson Tatum had a career night in a game where Celtics had to come back from a huge lead. Jayson Tatum scored a career high 60 points points in a 32 point comeback win against the Spurs. The final score was 140-143. Jayson Tatum's final stat line was 60 points, 8 rebounds, and 5 assists on 37 shots. He went an incredible 5-7 from three, some of which looked impossible to make. He was truly in a zone on this night.
Usually a night like this for an NBA player can be summed up in many words, but sometimes all it take is one picture. In this case a Larry Bird photo perfectly sums up Jayson Tatum's 60 point night. In this picture you see Tristan Thompson and Jayson Tatum, alongside Celtics legends Larry Bird and Dennis Johnson.
TATUM. WENT. OFF. 🤯

He drops a career-high 60 PTS in the Celtics' huge comeback win! pic.twitter.com/iB2S07F5AR

— NBA on TNT (@NBAonTNT) May 1, 2021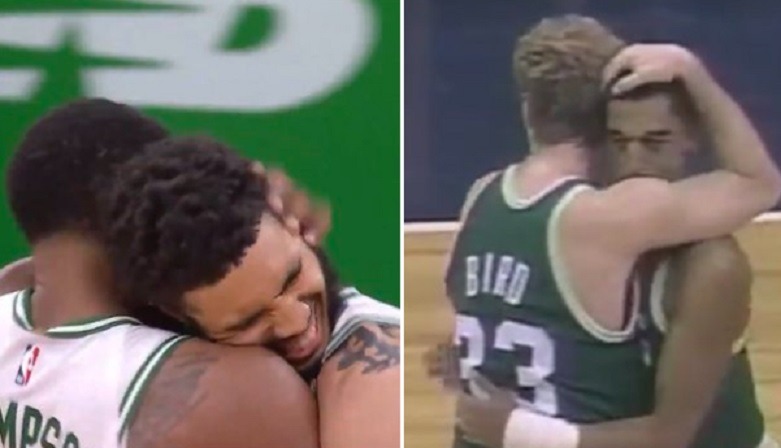 Celtics now hold the 6th seed with a half game lead over the Miami Heat. If they can stay in that position they avoid 76ers and Nets first round, but have to face Bucks, which might be even tougher than getting 7th or 8th and facing the aforementioned teams.
Nevertheless if Jayson Tatum is playing like he did tonight it's going to be tough for any team in the East to out them in a 7 game series.
Author: JordanThrilla Staff