Recently a mass shooting occurred at a dance studio near a Lunar New Year festival celebration in Monterey Park, California left at least 10 people dead. As the news spread, some 'left-wing activists' on social media quickly claimed the shooter was a white supremacist, and it was an Asian hate crime.
However, the Los Angeles County Sheriff's Department quickly debunked the false narrative, confirming that the shooter was an Asian man, and the motive was a domestic dispute. Sheriff Robert Luna stated that there was no indication that the shooter was motivated by any political ideology, or racial prejudice.
Andy Ngo Calls out 'Left-Wing Activists' Who Incorrectly Claiming Monterey Park Mass Shooter Was a White Supremacist
Right-wing journalist Andy Ngo believes the false claims of a white supremacist mass shooter were spread by 'left-wing activists' on social media without any evidence. He was one of the first to call out the false claims with a statement saying, "At least 10 were killed in a mass shooting in Monterey Park, CA, at a dance venue. No information has been released about the wanted gunman, potential motive or victims. Without evidence, leftists are spreading claims that it was a white supremacist, right-wing shooting". He then updated his Twitter thread with a police confirmation that the mass shooter was actually an Asian man, to further cementing his theory.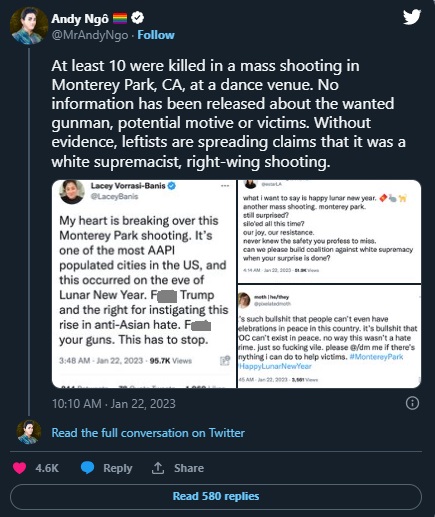 These are some examples of the tweets he was calling out in his post.
The True Racial Identity of the Monterey Park Mass Shooting Suspect Revealed by Crime Stoppers
While it's only natural to suspect that any mass shooting is a hate crime, because we live in a society where racism is rampant, it's also important not to jump to conclusions. As aforementioned the plot twist is Andy Ngo was right, apparently the Monterey Park mass shooting was not a hate crime carried out by a white supremacist. The mass shooter was actually an Asian man who went crazy after a domestic dispute according to police.
This incident highlights the dangers of jumping to conclusions without first examining the facts. It is important to remember that facts, and evidence should always be the basis of any conclusions. Making assumptions and spreading false narratives can have serious consequences, and it is important that we take the time to do the research, and examine the facts before making any assumptions or conclusions. Especially when it comes to sensitive topics like this.