Is Jimmy Butler smashing Shakira? The star player of the Miami Heat, and Shakira, the global pop sensation, have been sparking dating rumors for months. The two have been seen together on several occasions, both in the US and abroad, and have reportedly been enjoying each other's company. The news of their romance has interestingly made people remember the viral unconfirmed rumor that surfaced about Rachel Nichols awhile back.
When the Rumors of Jimmy Butler Smashing Shakira Began
The rumor of their alleged romance started in June 2023, when Shakira attended a Miami Heat game against the Denver Nuggets in the NBA Finals. She was spotted cheering for Butler, who led his team to victory. According to some sources, Shakira's son is a fan of Butler, and wanted to see him play. However, others speculated that there was more to it than that.
Shortly after the game, it was alleged that Shakira and Butler started following each other on Instagram, which added fuel to the fire. Neither of them has commented on their relationship status, but they were allegedly liking each other's posts and stories. Some fans even noticed that Butler allegedly left a fire emoji on one of Shakira's photos.
In July 2023, the pair was seen having dinner together in London at the Novikov Restaurant & Bar, a swanky Asian and Italian eatery. They arrived and left separately, but eyewitnesses said they looked cozy inside the restaurant. They ate sushi and drank cocktails, and Butler's security detail helped Shakira get into her car from the fire exit.
A source close to the couple told US Weekly that Butler is making Shakira smile and that she feels happy spending time with him. The source also said that they have been out a few times, but it's too early to tell if there's long-term potential there. The source added that Shakira is not bothered by their 13-year age difference.
Why Jimmy Butler's Relationship with Shakira Has People Talking about an Old Rachel Nichols Rumor
Remember that story about a security guard who came to Jimmy Butler's room at the NBA bubble, because he heard a thumping noise when players were supposed to be in quarantine? When Jimmy Butler answered the door he was allegedly drenched in sweat, and told the security guard he was dribbling a basketball.
Some time ago a social media rumor surfaced that those thumping sounds were Jimmy Butler smashing Rachel Nichols at the NBA Bubble in his hotel room. People thought the rumor wasn't far fetched, because Rockets' Danuel House got suspended for doing something like that with a Disney staff member. However, the rumor was never confirmed. Take a look at some of the reactions from back then.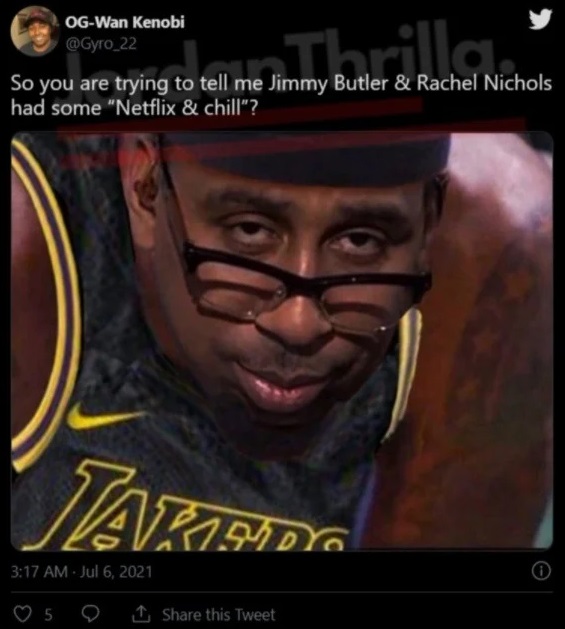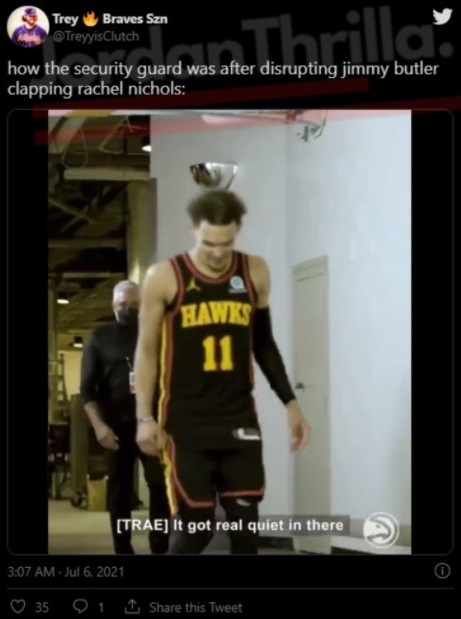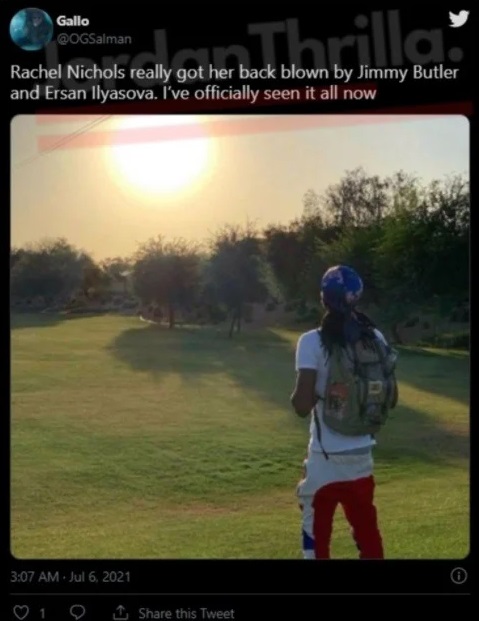 You might be wondering what Shakira and Rachel Nichols have in common. Well Shakira, who is 46 years old, split from her longtime partner Gerard Piqué in 2022 after 10 years together. They share two sons, Milan and Sasha. Shakira moved to Miami with her kids for a fresh start and has been working on new music. She was previously linked to Formula 1 driver Lewis Hamilton, but that was reportedly just a fling.
Rachel Nichols is 49, and has been married to Max Nichols since 2001. She and Shakira are around the same age, have the same skin tone, both have multiple kids, and also kind of look alike in some ways. Some people feel that Jimmy Butler dating Shakira could be more proof that he really was attracted to Rachel Nichols. It's clear now that he may have at thing for women of different racial backgrounds who are cougars.
Butler, who is 33 years old, has never been married and has a daughter named Rylee with his ex-girlfriend Kaitlin Nowak. He has been focusing on his basketball career, and leading the Heat to success. He is known for his work ethic and competitive spirit on the court.
He and Shakira seem to have a lot in common, and enjoy each other's company. They are both successful in their fields, passionate about their work, and have a Latin connection (Butler speaks Spanish and has visited Colombia several times). They are also both single and ready to mingle.