Adult Film stars always seem to be in the news for the craziest or saddest reasons, and the trend continues with Lavish Styles seemingly heartbreaking situation. According to reports adult film star Lavish Styles was in a car accident, and is suffering from some major damage, but some people aren't convinced.
Details on Adult Film Star Lavish Styles Tongue Surgery Claim
Report say Lavish Styles' tongue was cut off during the car accident, along with some neck damage. Her car allegedly flipped while she was driving, which caused her injuries. It's alleged that Lavish Styles tongue was sewn back in during a major reconstructive surgery. At the moment Lavish Styles is in a neck brace, and her friend claims she can't eat, talk, and has to drink everything through a straw.
Is Lavish Styles GoFundMe a Scam?
To help pay for her medical bills woman named Shannell R who claims to be her friend started a Lavish Styles GoFundMe. It has a $20,000 goal, and has raised $4,900 at the moment. However, the donations slowed up after Lavish Styles couldn't prove that her tongue is sewn together from surgery. Instead she posted a video of her self in neck brace with a ice pack on her head, and her friend claims that she can't open her mouth to take a picture of her tongue. It didn't help that her face doesn't look that swollen either.
Take a look at this video.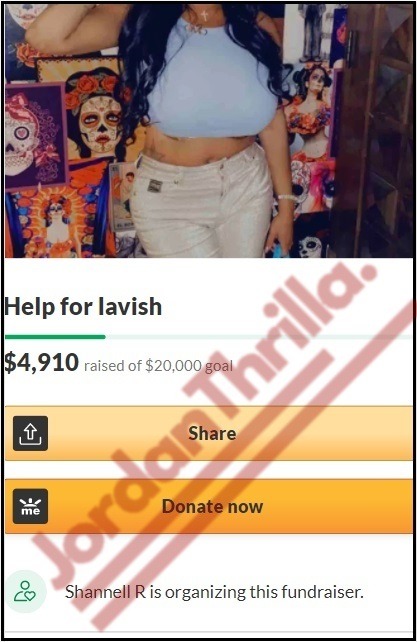 It does seem strange that Lavish Styles doesn't have any evidence of having tongue surgery, despite claiming her tongue was sewn back on. She also looked little to too well for someone who recently went through a surgery like that.
What do you think was Lavish Styles' tongue sewn back on? Or is Lavish Styles' GoFundMe a scam?
Whatever the case may be, prayers up for her, because it would be a sad situation either way.
Author: JordanThrilla Staff