Did YouTube street baller D'Vontay Friga try to injure Jason Rivera, who is a Division 1 commit to Vanderbilt, a future NBA prospect, and also costarred Kevin Durant's series. D'Vontay Friga was facing Jason Rivera at a 1v1 best of three event in Virginia hosted by Next Chapter, which is his YouTube basketball movement that showcases talented street ballers from all around the United States, against their growing roster of basketball talent.
Who is YouTube Street Baller D'Vontay Friga?
D'Vontay Friga is a former Division 3 basketball star who played all four seasons at the University of Mount Union in Ohio . He became a popular social media star and content creator who posts mainly basketball-related content on his self-titled YouTube channel, where he has over 800,000 subscribers. He has created his own brand and clothing line, and has allegedly received offers to play professionally overseas in Spain and Australia over the years.
Who is Kevin Durant's Costar Jason Rivera?
Jason Rivera is a 19-year-old basketball phenom who has committed to play for Vanderbilt University, a Division 1 school in the Southeastern Conference. He is also a future NBA prospect, and has been cast as Kevin Durant's costar in his upcoming TV series, "Swagger", which is based on Durant's youth basketball experiences. He is known for his explosive athleticism, versatile skill set, and competitive spirit.
Why Are People Wondering if D'Vontay Friga Tried to Intentionally Injure NBA Prospect Jason Rivera?
As aforementioned, D'Vontay Friga and Jason Rivera faced off in a 1v1 best of three event in Virginia, hosted by Next Chapter. The 1v1 series was tied 1-1, and they were facing off in Game 3. The game was intense and physical, with both players trying to prove themselves. During the game, when Jason Rivera was driving to the rim, D'Vontay Friga grabbed him by his arm, and appeared to drag him down by his shoulder.
The move looked dangerous and reckless, as it could have easily injured Jason Rivera's shoulder or elbow. The fact that the potentially dirty play came after Rivera chest bumped Friga made people wonder if it was an action of retaliation. Also some people pointed how Friga grabbed his arm with two hands.
For a brief moment it seemed like Jason Rivera was going fight D'Vontay Friga, but the match went on and he won 10-5, showing no signs of injury or weakness. He celebrated with his friends and fans, while D'Vontay Friga congratulated him and hugged him. The event ended on a positive note, with both players expressing their appreciation for each other.
After the game D'Vontay Friga apologized to Jason Rivera, and claimed that he wasn't trying to injure him, especially knowing that he had a possible NBA future ahead at 19 years old. Jason Rivera seemed to accept the apology, and thanked Next Chapter for allowing him to showcase his talent at their 1v1 event. Take a look at how it went down.
Intentional, or unintentional?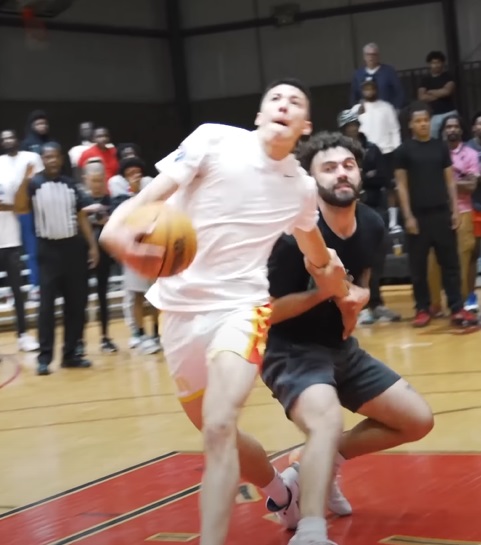 D'Vontay Friga and Jason Rivera are both talented and passionate basketball players who have inspired many people with their stories and skills, while having two very different paths in the basketball world. It will interesting to see if Kevin Durant reveals whether he feels if his costar was almost intentionally injured by a YouTuber.