The NBA world was shocked, but not surprised when the Phoenix Suns announced that they had traded their star point guard Chris Paul to the Washington Wizards for Bradley Beal. While some fans and analysts praised the Suns for acquiring a younger and more versatile scorer in Beal, others questioned their decision to break up the successful duo of Paul and Devin Booker, who had led the Suns to their best seasons in decades, but have also had two post-seasons of early failure.
Jusuf Nurkic Reacts to Suns Trading Chris Paul for Bradley Beal
One of the most vocal critics of the trade was Portland Trail Blazers center Jusuf Nurkic, who took to Twitter to mock the Suns and Kevin Durant. Nurkic, who is known for his trash talk and feisty attitude on and off the court, posted a tweet that read "Brooklyn situation all over again" with a laughing emoji, implying that the Suns had made a mistake similar to the Brooklyn Nets, who had failed to win a championship despite having a star-studded roster of Kevin Durant, Kyrie Irving and James Harden.
Nurkic's tweet seemed to be clearly aimed at Durant, who had left the Golden State Warriors in 2019 to join forces with Irving and later Harden in Brooklyn, hoping to win his third ring. However, the Nets were plagued by injuries and chemistry issues throughout the season, and were eliminated in the second round of the playoffs by the Milwaukee Bucks, who went on to win the title. The next season they were swept in the first round by the Brooklyn Nets.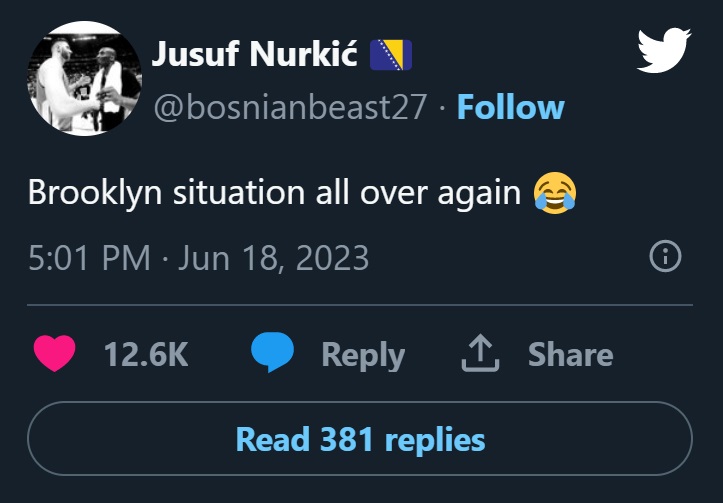 Nurkic's tweet sparked a lot of reactions from NBA fans and media, some of whom agreed with his assessment of the trade and others who defended the Suns and criticized Nurkic for being disrespectful and bitter. Some also pointed out that Nurkic had no room to talk, as he had never won anything in his career, and had been part of a Blazers team that have historically underachieved despite having Damian Lillard and CJ McCollum as their stars for many years, before breaking the duo up.
The trade between the Suns and the Wizards is one of the biggest moves of the offseason so far, and it remains to be seen how it will affect both teams' chances of competing for a championship next season. As for Nurkic, he may have to face the consequences of his tweet when he meets Durant and Beal on the court.