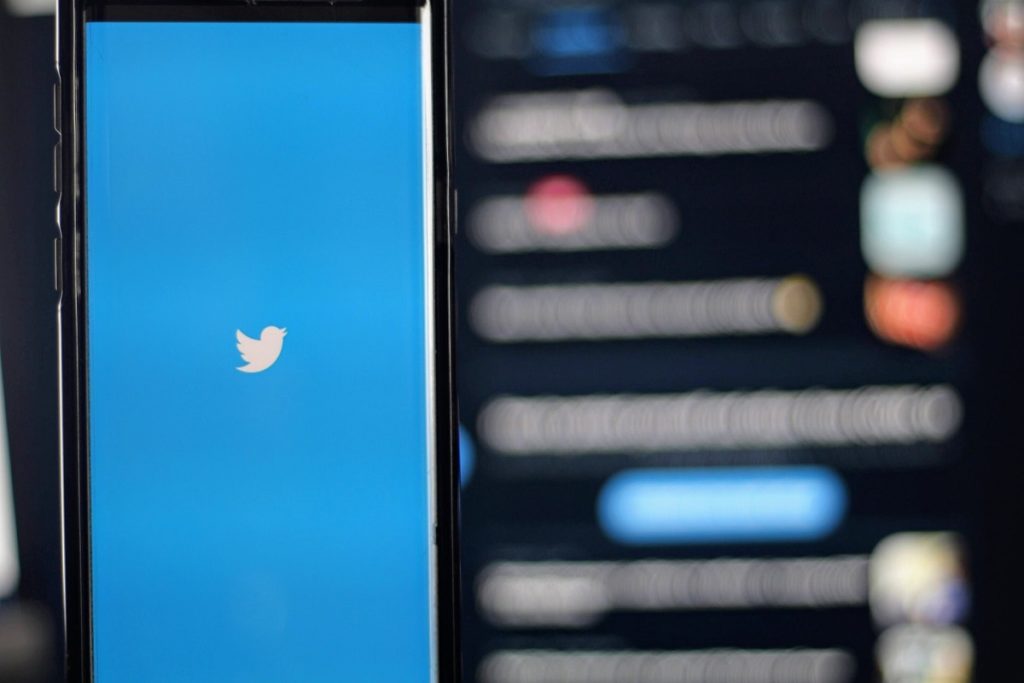 Recently Irv Gotti was on Drink Champs revealing a lot of unknown information about his relationship with Ashanti, and why they don't speak anymore. The battle between them over her masters has been well documented on social media. During this bombshell interview Irv Gotti revealed why he won't give back her masters, and why he believes he was responsible for some of her biggest hits. Now an Ashanti fan page called 'Ashanti Daily' is firing back with some damning allegations of the shady business moves that were going on behind the scenes at Murder Inc. that slowly destroyed Ashanti's career.
During his recent Drink Champs interview Irv Gotti claimed he was telling Ashanti what to write on many songs, which makes him feel he owns her music. In addition since he explained doesn't sign his artists to 360 deals, he needs to own their masters to make money off their music. He feels Ashanti wanting her masters is her way of saying she doesn't even want him to make money to support his family. In essence he was painting himself as victim in the situation during that interview.
Viral Twitter Thread Exposes How Irv Gotti Ruined Ashanti's Career Before She Wanted to Leave his Murder Inc. Music Label Allegedly
What people might not know are the allegations of what was possibly going on behind the scenes causing a rift in their relationship. Take a look at the viral Twitter explaining how Irv Gotti ruined Ashanti's career with bad business decisions before she wanted off his label. The thread was created by the @ashantidaily Twitter page.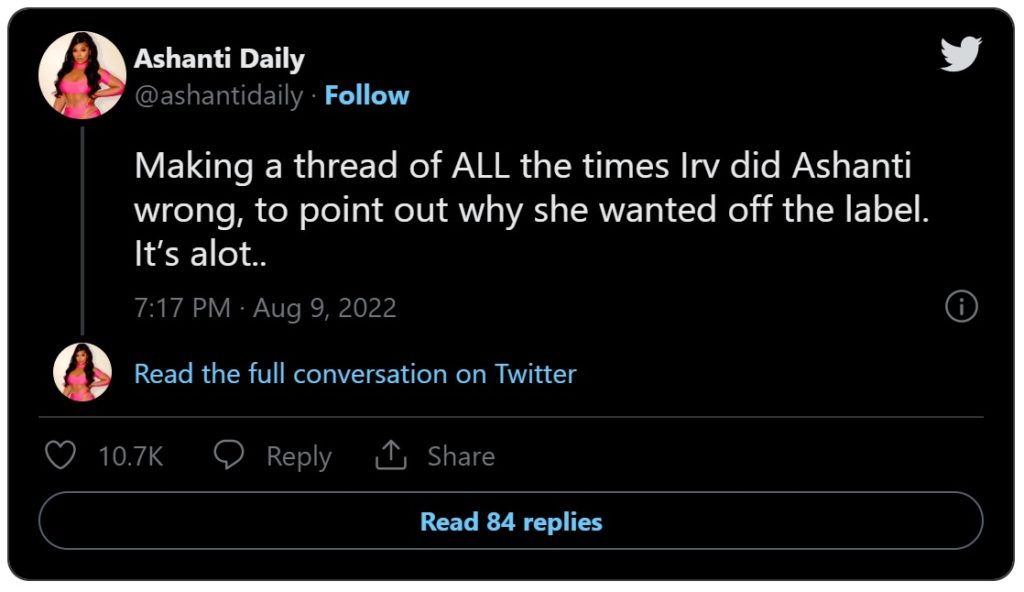 Apparently Irv Gotti made Ashanti write and background vocal the 'Ain't it Funny' remix for Jennifer Lopez, and got no credit for it. In addition he wanted to give JLO songs like 'Rescue', 'What's Luv', and 'Always On Time' despite the fact that Ashanti loved the records. In essence it seemed like Irv Gotti valued Jennifer Lopez more than Ashanti.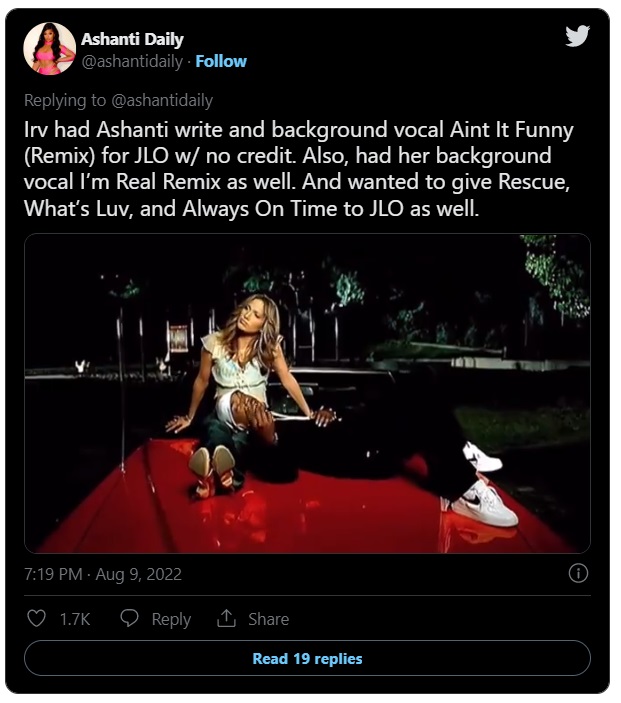 In 2002 Irv Gotti allegedly fumbled the bag on a 4th music video for Ashanti's hit singles to promote his failed artist Shan with a 'Baby (remix)'.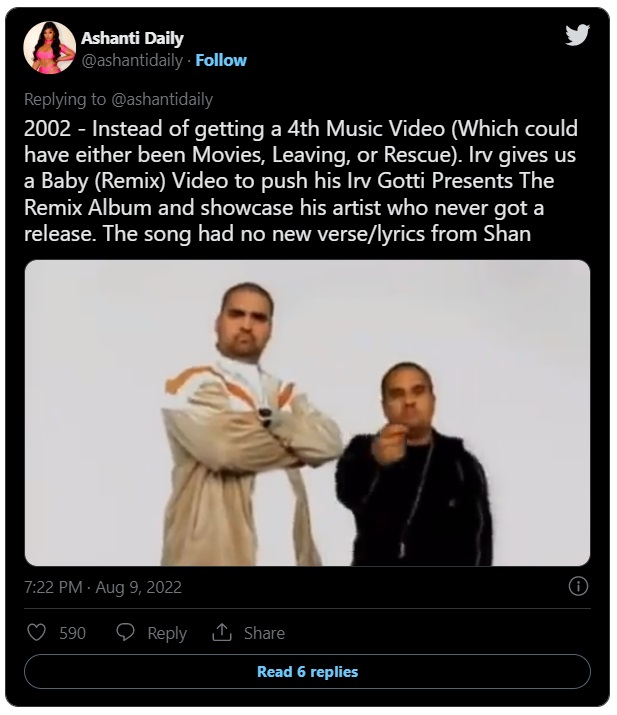 In 2002 Irv Gotti allegedly refused to let Ashanti do a music video with Fabolous for their hit single 'Into You' only because the track wasn't produced by Murder Inc. Eventually Fabolous' label took her off the chart topping song, and replaced her with Tamia.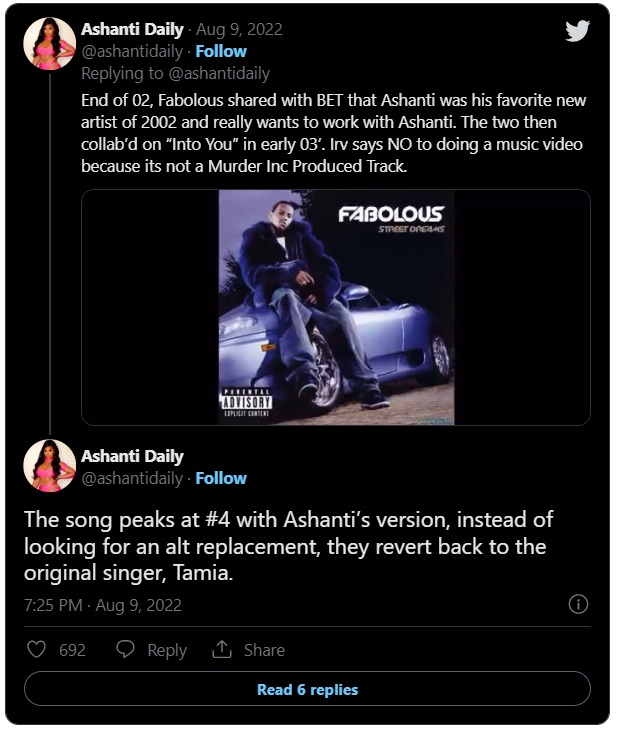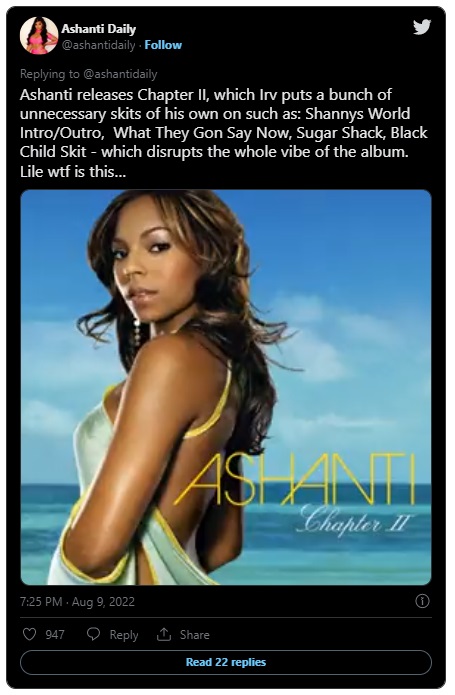 During the G-Unit vs Murder Inc. beef the stock value of Irv Gotti's rappers were falling quickly in the eyes of fans. In an attempt to shift the negative trend it's alleged Irv Gotti pushed back Ashanti's third single release, and made her make a remix to promote Ja Rule. At the time all of Ashanti's singles were big hits with two top 10 singles at once including 'Rock Wit U'.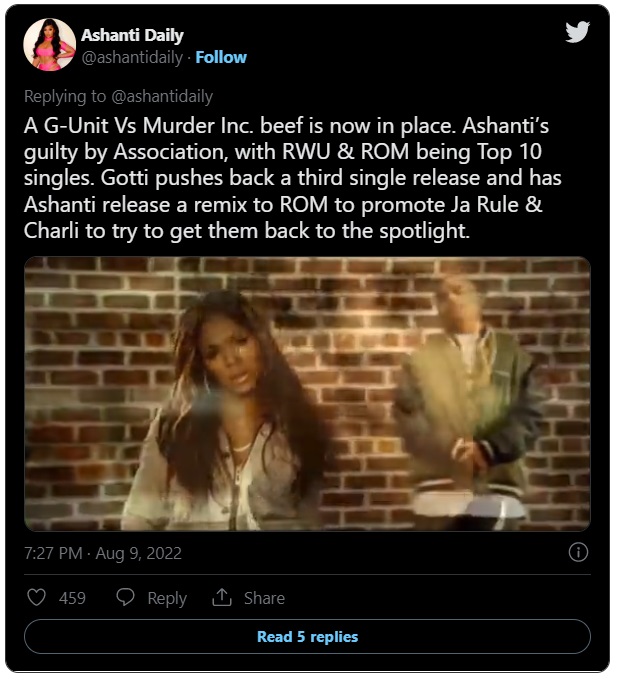 It's alleged Irv Gotti didn't let Ashanti go on the 'Verizon Ladies First Tour', because he saw the other women performing as competition since they weren't signed to Murder Inc. Once again he allegedly held Ashanti back from making money due to selfish reasons.
This was is another example of Irv Gotti allegedly valuing another artist at Ashanti's expense.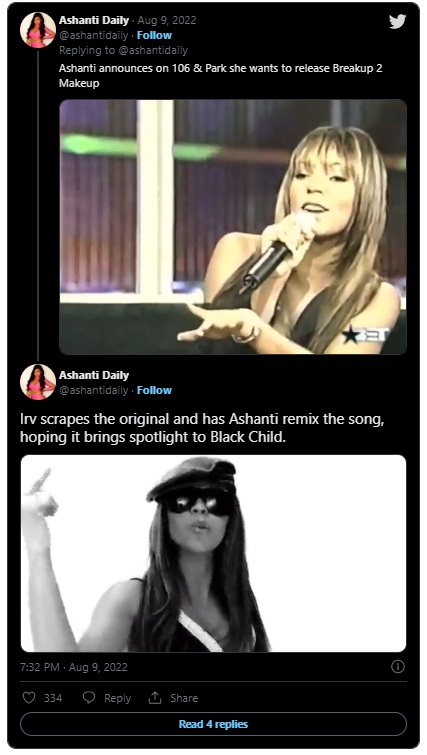 When Ashanti's 'Concrete Rose' album came out in 2004 Irv Gotti only released one single from the album for a period of 7 months, which was 'Only U'. It's alleged he claimed that a transition period due to Murder Inc. leaving Def Jam was the cause, but apparently Ja Rule got three videos in the same time span despite his music performing worse on the charts.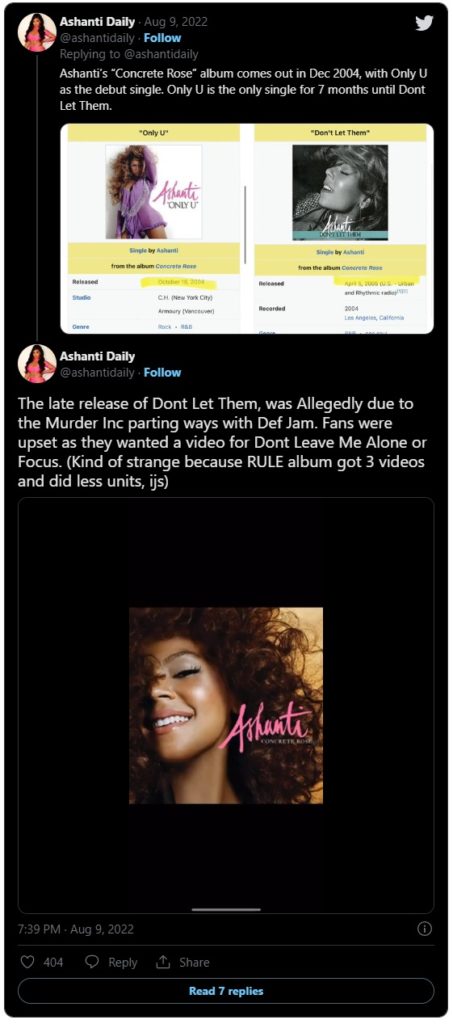 When FEDS started to come after Irv Gotti's Murder Inc. label Ashanti was caught in the crossfire. Due to Irv Gotti's court case Ashanti lost all her endorsement deals allegedly. In addition Irv Gotti called out Ashanti for not showing up to his court trial, but there is alleged proof she actually did.
Ashanti was and still is a very successful woman, but if these allegations are true it's easy to see that Irv Gotti severely derailed her career. It seems like he possibly cost her millions of dollars, and put her career on the backburner for selfish reasons in many instances. That said, it would be interesting to see how he responds to these allegations, because there's always two sides to a story.