Recently there have been shocking conspiracy theories about renowned hip-hop mogul, J Prince, and his alleged MOB ties. The latest incident concerns the cancelation of Charleston White's sold-out show in Houston Texas. It was said that police had warned him that they would not protect him due to his online beef with J Prince. This has led many people to believe that J Prince's alleged MOB ties are a real thing, and not just a slogan.
This rumor comes after social media accused J Prince of subliminally sending Offset a death threat during a recent podcast interview on Gillie Da Kid and Wallo. J Prince is a well-known figure in the rap world, having co-founded the record label, Rap-A-Lot Records, in the 1980s. He has produced and managed successful artists such as Scarface, UGK, and Devin the Dude.
The rumor of Charleston White's show being cancelled due to J Prince's alleged MOB ties is certainly concerning. Conspiracy theorists believe this could be another sign that J Prince is not afraid to use his connections to intimidate and silence his opponents in plain sight. If this is the case, it could be proof that J Prince truly is someone who is not to be messed with. However, at the moment it's not 100% confirmed if the allegations are true, it might be possible his show got cancelled for other reasons.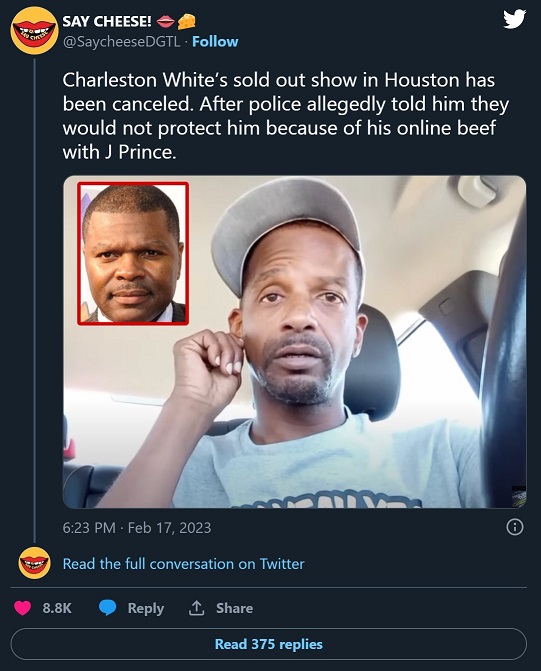 Over the past week Charleston White has dissed J Prince on social media after the Offset situation.
The rumors of J Prince's MOB ties and his alleged involvement in the cancelation of Charleston White's Houston show could be evidence of how powerful he really is, or just more unproven claims. Is it possible that his influence could be so great that even Houston police were afraid to cross paths with him? Some conspiracy theorists believe this could be seen as a sign that J Prince has more clout than the law.
It will be interesting to see how Charleston White considering the massive amount of money he's probably losing from not being able to do a sold out show. If the Houston police department is scared of J Prince, then who can he rely for protection at shows going forward?