Is Lil Uzi Vert Battling Depression? The rapper known for his hit songs like "XO Tour Llif3" and "The Way Life Goes", has sparked concern among his fans after he shared a series of lengthy Instagram posts where he opened up about his struggles fame.
Why Some Fans are Worried the Lil Uzi Vert is Suicidal
In the alarming posts, Lil Uzi Vert talked about how he was very stressed out and tired of other people controlling his life. He said that he felt like he had no freedom and that he was always under pressure to please others. He also said that he was tired of people only giving him attention when he drops new music, insinuating that they don't care about him as a person.
He ended his emotional post saying "I would give up all the money and perks that this comes with to live a perfectly normal life I'm okay with it". This statement alarmed many of his fans who interpreted it as a sign of suicidal thoughts.
The revelation has many people worried that the price of fame may be making Lil Uzi Vert suicidal from mental depression. They fear that he is seeking something that he will never be able to fully have, which is a normal life. They also think that since Lil Uzi Vert is trapped in a world that is making him unhappy, it could lead to him taking his own life like has happened to other very famous people in the past.
Some examples of celebrities who have died by suicide due to depression and fame are Kurt Cobain, Robin Williams, Chester Bennington, and Avicii.
Fans have been sending messages of support and love to Lil Uzi Vert on social media, hoping that he will see them and feel better. They are also urging him to seek professional help and therapy if he needs it. They want him to know that he is not alone, and that they appreciate him for more than his music.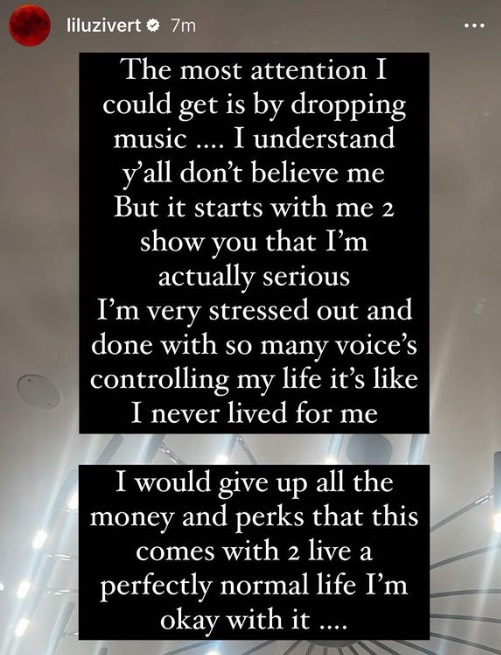 Is Lil Uzi Vert Quitting Music?
Hopefully, Lil Uzi Vert can overcome his trials and tribulations, and lead a life that truly makes him happy. In this instance it seems like retiring from music might be the best option for his wellbeing. He has enough money and investments to life a comfortable life, and surely his fans will understand.
Mental health is important, so if you know someone who is struggling with depression or suicidal thoughts, urge them to reach out to someone they trust, or call a helpline.