Recently Irv Gotti was on Drink Champs spilling a lot of juicy info about his relationship with Ashanti, and why they don't speak anymore. As you probably know the battle between them over her masters has been well documented on social media. During this interesting interview Irv Gotti revealed why he won't give back her masters, and also revealed how their romantic relationship help her create some of the biggest hits of her career.
Irv Gotti Still Wears Watch Ashanti Bought Him
Whenever there is any reunion involving Murda Inc. artists if Ashanti is there Irv Gotti isn't, and vice versa. Despite the two being madly in love in the past overtime they grew far apart due to the rigors of the music business. To put in perspective how close they were Irv Gotti still wears a watch Ashanti bought him that has an engraved message that ends with 'Love Ashanti' on the back of it. He was actually wearing it during this Drink Champs interview, as you'll see in the video below.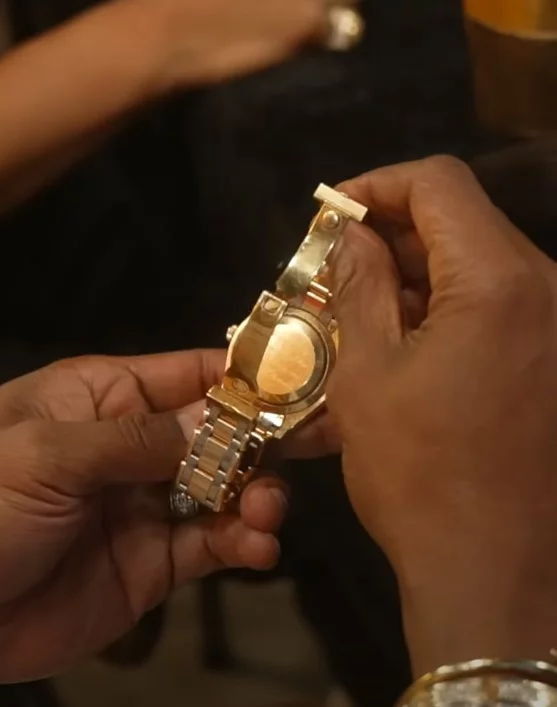 These days the beef between Irv Gotti and Ashanti is mostly based on her wanting her masters. Irv Gotti who brags about never signing his artists to 360 deals still refuses to give Ashanti her masters for one important reason. He believes that he is responsible for most of the hit records she created. During the Drink Champs interview Irv Gotti claimed he was telling Ashanti what to write, which makes him feel he owns her music. In addition since he doesn't sign his artists to 360 deals, he needs to own their masters to make money off their music. He feels Ashanti wanting her masters is her way of saying she doesn't even want him to make money to support his family.
With all that said one of the most interesting things he revealed about the time when they were in love was how it inspired her music.
Irv Gotti Smashed Ashanti Right Before Recording 'Happy' Single According to Viral Drink Champs Interview
The record 'Happy' is probably Ashanti's biggest hit of her career. The song was one of her most emotional feel good songs, and apparently Irv Gotti's love making session with her was the inspiration. Right after Irv Gotti smashed Ashanti he started humming tune for the song while he was in the shower. Irv Gotti explained that after smashing Ashanti that day he was feeling very creative. After he got out shower he called his producer and hummed the tune back to him, which lead to the beat being created. Lastly Ashanti was brought in to sing the lyrics. Essentially Irv Gotti smashing Ashanti created her 'Happy' hit record that made them both millions.
Skip to the 51 minute mark of the video below.
It's amazing how their love for each other created the vision that led to one of the greatest RnB tracks ever. Hearing the artistic process behind it all makes you appreciate the song and music video even more.
It's really sad that Irv Gotti and Ashanti don't talk anymore after the magic they created together, but nothing lasts forever in this world. At the very least despite their public battle of masters it seems they are both completely over each other, and have peace within themselves.
The Murda Inc. documentary showing on BET very soon is definitely going to be an interesting watch based off this Drink Champs interview.