In a surprising and delightful twist, pop sensation Ice Spice turned heads at a recent concert by channeling the iconic Betty Boop for her Halloween costume. The video footage from the event has set social media abuzz, with fans and critics alike praising her attention to detail and playful homage to the classic cartoon character.
Details Behind Ice Spice's Betty Boop Halloween Costume
Betty Boop, the animated flapper girl who first graced screens in the 1930s, remains an enduring symbol of vintage glamour and sass. Her signature red dress, heart-shaped garter, and distinctive hairstyle have become instantly recognizable. Ice Spice's decision to step into Betty's shoes (or should we say pumps?) was a bold move that paid off spectacularly.
Draped in a crimson gown that hugged her curves, Ice Spice channeled Betty's allure effortlessly. The dress featured a sweetheart neckline and a thigh-high slit, capturing the essence of the original character. Her jet-black hair was styled into tight curls, framing her face in a way that echoed Betty's flirtatious charm. The singer even sported Betty's trademark hoop earrings, and carried a glittering clutch adorned with red sequins.
As soon as snippets of Ice Spice's performance surfaced online, fans erupted in excitement. Hashtags like #IceSpiceBoops and #BettyGoesPop trended worldwide. Admirers praised her for paying homage to a beloved cultural icon while adding her own contemporary flair. Some even speculated whether this signaled a new era for Ice Spice—one that blended nostalgia with her signature futuristic sound.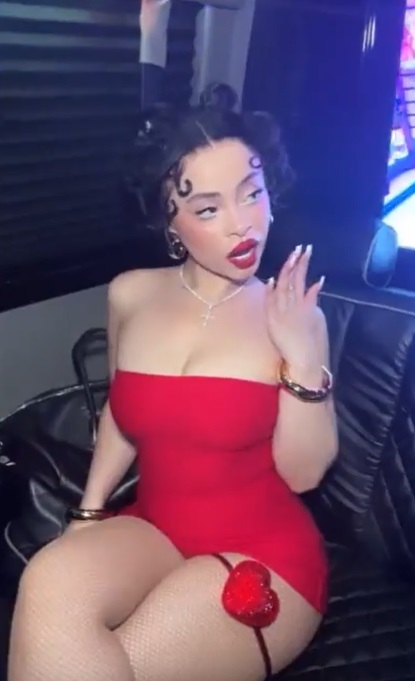 Ice Spice's Betty Boop costume metamorphosis has ignited conversations about creativity, authenticity, and the enduring appeal of pop culture icons. Whether this is a one-time tribute or a glimpse into a new era for the artist remains to be seen. One thing is certain: Ice Spice has left an indelible mark on Halloween—and our hearts.