Royal Flush, a hip-hop artist from Queens, New York, who rose to fame in the 1990s with his debut album Ghetto Millionaire, is facing a tough battle with a rare and aggressive form of cancer. To make matters worse he needs some serious help covering the massive cost of medical bills that are amounting on he, and his family.
What is Follicular Lymphoma?
Royal Flush, whose real name is Ramel Govantes, was diagnosed with grade 3A follicular lymphoma, a type of non-Hodgkin lymphoma that affects the lymph nodes and other organs. Follicular lymphoma is the most common type of indolent (slow-growing) lymphoma, but grade 3A is considered more aggressive and has a poorer prognosis than lower grades.
According to the Lymphoma Research Foundation, follicular lymphoma accounts for about 20% of all non-Hodgkin lymphomas in the United States, and affects mostly older adults. The median age at diagnosis is 60 years. The exact cause of follicular lymphoma is unknown, but some risk factors include family history, exposure to radiation or chemicals, and certain infections.
Follicular lymphoma is characterized by the presence of abnormal B cells (a type of white blood cell) that form clusters or follicles in the lymph nodes. These cells can also spread to other parts of the body, such as the bone marrow, spleen, liver, or skin. The symptoms of follicular lymphoma may include swollen lymph nodes, fever, night sweats, weight loss, fatigue, or infections.
The treatment of follicular lymphoma depends on the stage, grade, symptoms, and overall health of the patient. Some common options include chemotherapy, immunotherapy, radiation therapy, stem cell transplant, or watchful waiting. However, there is no true cure for follicular lymphoma, and it often relapses or becomes resistant to treatment over time.
The Royal Flush GoFundMe
To help cover the medical costs of his treatment, Royal Flush's family member Chrissy Govantes created a GoFundMe campaign. The goal of the campaign is to raise $300,000 for his chemotherapy sessions, hospital bills, and medications.
At the time of this writing, the campaign has raised $10,179 from 128 donors. Many of the donors have left messages of encouragement and appreciation for Royal Flush and his music. Some of them are fellow hip-hop artists or fans who have been inspired by his work.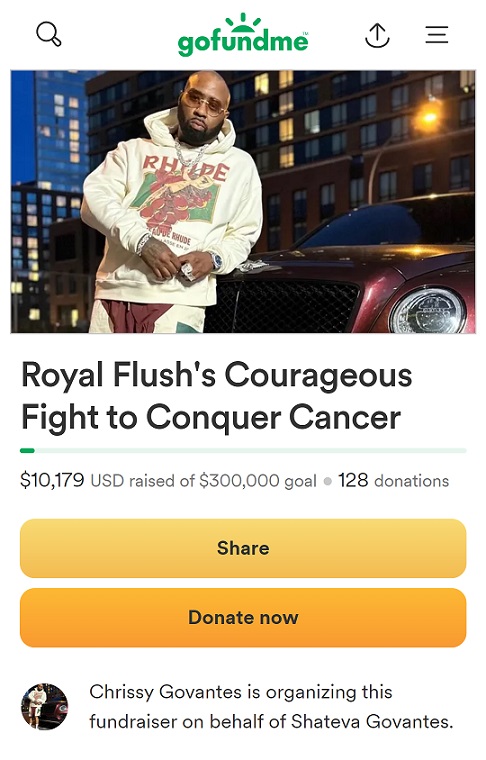 If you want to support Royal Flush and his family during this difficult time, you should definitely donate to his GoFundMe campaign. You can also stream his music on Spotify, Apple Music, YouTube, or other platforms. Some of his most popular songs include Worldwide, Rotten Apple, Iced Down Medallions, Movin' On Your Weak Production, and What A Shame.
Royal Flush is not only a hip-hop legend, but also a beloved member of the Queens community, and the hip-hop culture. He has touched many lives with his music and his personality. He deserves our support and our respect. Let's show him some love, and help him fight this cancer.