A video of Beyonce silencing a fan who claimed she can't sing is making rounds on the internet. The incident happened during her recent "The Mrs. Carter Show World Tour" show, where she performed some of her hit songs.
How Beyonce Exposed a Fan Who Said She Couldn't Sing in Front Thousands of People During MCSWT Performance
According to the video, Beyonce noticed a fan in the front row holding a sign that said she can't sing. Instead of getting angry or ignoring the fan, Beyonce decided to prove him wrong in a classy, but ether filled way.
She hit one of her unique vibrato notes, then walked up to the fan, handed him the microphone, and told him to do the same thing. The fan tried to imitate her, but his voice sounded horrible and off-key. Beyonce then walked away, saying "exactly", which was a subtle way of telling the fan that he had no right to criticize her singing skills, when he himself could not even sing.
The video has gone viral on various platforms, with many people praising Beyonce for her witty response and amazing vocals. Some also criticized the fan for being rude and disrespectful to one of the most successful and talented singers in the world.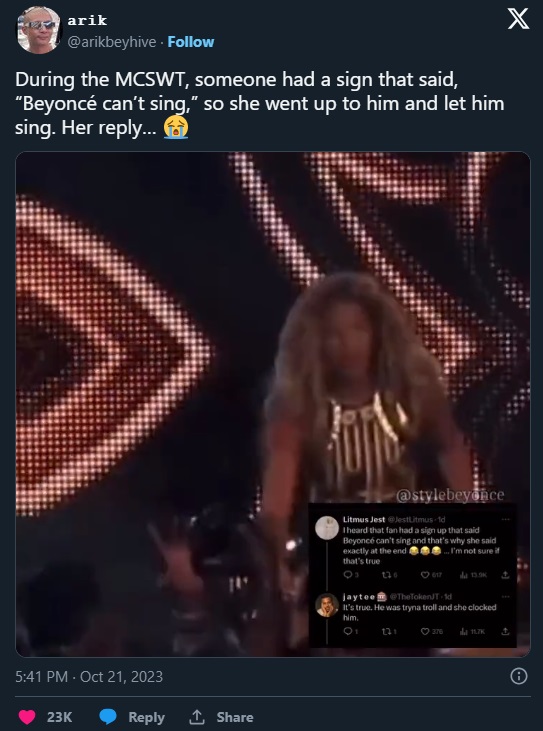 Beyonce has not commented on the video or the fan's sign, but it is clear that she does not let haters get to her. She continues to impress her fans with her stunning performances and powerful voice.
Moral of the story is, if you're going to disrespect Queen Beyonce during her concert, you better come prepared to backup your words, or sign. If not she will respectfully make a fool out of you, and make you eat the words in front millions.