The beef between Meek Mill and Wack100 is reaching pandemic levels. Now Meek Mill spammed Wack100's Instagram comments with threats and a fight challenge. He told him to DM his number so they can set up a place to meet up and fight. This comes after Meek Mill said he doesn't do fades because he's a "boss".
Just yesterday Meek released phone call audio of Wack100 dissing The Game behind his back. Take a look at the spam comments he left on his Instagram today.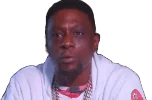 As you can see Meek Mill is still adamant that Wack100 is an internet gangster that tries to bully people online. Now he's also saying that Wack100 is jealous of young successful black men, and tries to tear them down. It's hard to argue against that sentiment given that Wack100 inserted himself into the Meek vs Tekashi beef for no real reason or so it seems.
Will we see a video of Wack100 running up on Meek Mill soon? Only time will tell.
Author: JordanThrilla