Is Battle Rapper Chilla Jones smashing Topanga from the "Boy Meets World" show? People are wondering after Topanga congratulated Chilla Jones on winning the COTY award.
In the video she was in Los Angeles, but stated she would be coming to "celebrate" with him very soon. Does this mean Chilla Jones is dating Topanga? Take a look.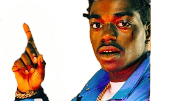 It's not often you see a Battle Rapper dating someone as famous as she is. Most women aren't even fans of battle rap in general. If Chilla Jones is smashing Topanga it's a sign of how mainstream battle rap has become in a way.
In case you don't know Topanga played Cory's girlfriend on the Boy Meets World show. Anyone who grew up in the 90's watched that show. This is a huge moment in Battle Rap history.
Author: JordanThrilla