Yo Gotti signed Louisville Kentucky rapper "Est Gee" To CMG label then Gave him $750K in real cash in a viral video. The footage shows Yo Gotti and Est Gee in the studio with wads of cash laying everywhere. Like a true baller Yo Gotti even had gold bottles of champagne on table with all the cash for Est Gee.
In the caption of his post Yo Gotti wrote, "Shout out to Kentucky. Every City, Every Hood, Every Artist, Every Hood N****, and Every Bad B****. LET'S TURN THIS S*** UP". It's clear he's very excited about Est Gee's potential, and what he can do to elevate him to true stardom.
About 5 months ago Yo Gotti was in Louisville Kentucky looking for the hottest artist in the city, and said he would have a big bag for them. He wasn't fronting about that.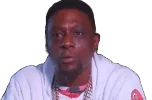 Est Gee is only 26 years old, but already has a large following. His debut album "I Still Don't Feel Nun" received rave reviews. A lot of people don't know that Est Gee was an athlete before a rapper. He even got a football scholarship Indiana State University.
Now he is really about to become a superstar with Yo Gotti's guidance.
Author: JordanThrilla