Lil Boosie is taking his battle against the LGBTQ community to the studio. It appears Lil Boosie released a gay community diss track titled, "Me Against the World". This comes shortly after Lil Boosie complained about Robin coming out as a bisexual superhero.
In Lil Boosie's LGBTQ gay diss track he talks about social media trying to ban him for speaking out against what he believes is a gay agenda ruining youth. He accused the gay community of trying to mess up his money flow, and spoke about people not being able to voice their opinions anymore. He wonders if anyone will help him in his battle against the alleged gay agenda.
This was the controversial tweet where Lil Boosie reacted to Robin being bisexual a man. He told parents to "watch their kids".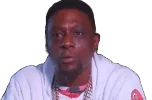 Is Lil Boosie's gay diss track taking things too far? One thing for sure is that he isn't afraid of being cancelled anymore, and it seems like no group has more power at getting you cancelled than the LGBTQ community.
It really seems like Lil Boosie gay community diss track is really playing with fire. This could really end his career.
Author: JordanThrilla Staff