The shocking news of Jonathan Majors' arrest on charges of strangulation, assault, and harassment of a woman has rocked the entertainment industry and his fans. The acclaimed actor, who has starred in Marvel's Ant-Man and the Wasp: Quantumania and Creed III, was accused by a 30-year-old woman of choking her during a domestic dispute in a car in New York on Saturday. The woman, who was reportedly his girlfriend, was taken to a hospital with minor injuries to her head and neck.
Did the Woman Lie About Jonathan Majors Physically Assaulting Her?
However, in a surprising twist, the woman has now withdrawn her allegations against Majors, claiming that he did not harm her in any way. According to Majors' lawyer, Priya Chaudhry, the woman has sent two written statements to the authorities, recanting her accusations and apologizing for the incident. Chaudhry also said that the woman was suffering from an emotional crisis at the time of the altercation, and that Majors was actually the victim of her aggression.
Chaudhry further stated that they have video evidence from the car, as well as witness testimony from the driver and others, that prove Majors' innocence. She said that they expect all charges to be dropped soon, as they are presenting their evidence to the District Attorney. She also expressed Majors' gratitude for his fans' support and his desire to move on from this unfortunate situation.
Social Media Reactions to Jonathan Majors' Accuser Recanting Her Statement Sparks Conspiracy Theory
This report raises many questions about what really happened between Majors and the woman, and why she decided to change her story. Was she lying from the beginning, or did she feel pressured or threatened to retract her claims? What motivated her to accuse Majors of such a serious crime in the first place?
How will this affect Majors' reputation and career in Hollywood? And how will this impact the ongoing conversation about domestic violence and abuse in our society?
On social media many people are already calling for the woman to be punished for allegedly falsely accusing Jonathan Majors of domestic violence, but are they jumping the gun? There are many that feel the woman may have been pressured into recanting her statement to save his career. Take a look.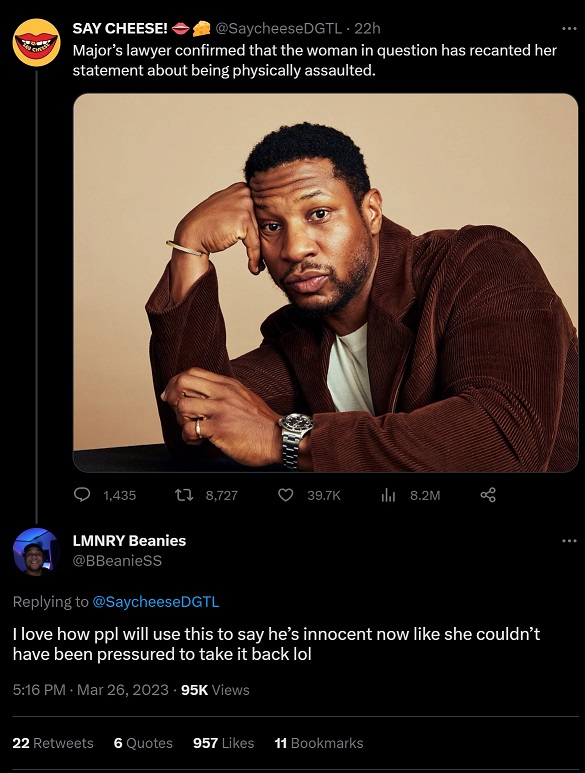 While it's possible the woman was coerced to fake like she was lying about what happened, people should also pay attention to the alleged evidence that could prove that he is really innocent. Also in Hollywood sometimes reputation can help give someone benefit of the doubt, and he hasn't really had any troubles like this before.
Only time will tell if there is any truth to the Jonathan Majors conspiracy theory.