Have you ever dream of having a YouTube channel with millions of subscribers? That possibility can now happen overnight, but it's going to cost a hefty sum. According to reports YouTuber SkyDoesMinecraft aka SkyDoesEverything is selling his YouTube channel, and while the price is a great value relatively speaking it's still a massive amount.
Why is SkyDoesMinecraft Selling His YouTube Channel? Was Adam Dahlberg Abusing His Wife?
Earlier this year SkyDoesMinecraft whose real name is Adam Dahlberg was exposed by ex-girlfriend Elizabeth Torgerson after she posted a document on iCloud. In those documents it was revealed that SkyDoesMinecraft was abusing his wife, allegedly. The documents included evidence such as videos and texts. One of the most serious allegations she made was that Adam Dahlberg kicked his pregnant girlfriend in the stomach while they were at a hospital. However, he was never charged with any crime despite the allegations and evidence she made public.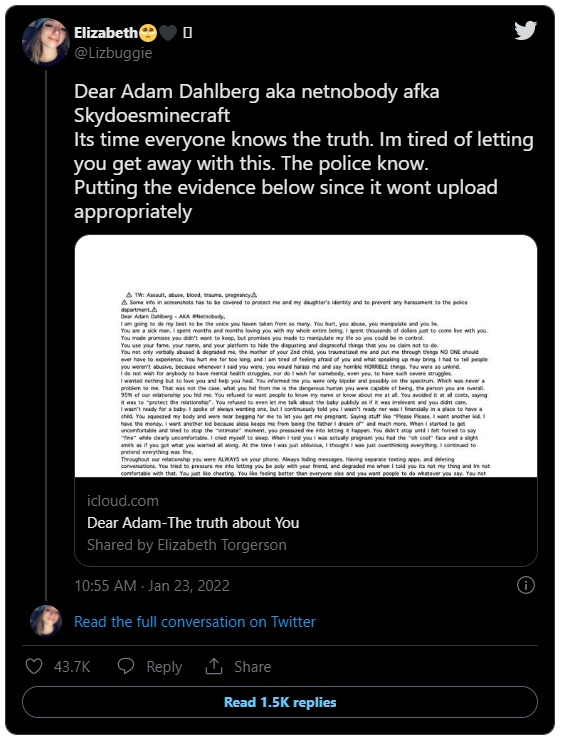 How Much is SkyDoesMinecraft Selling His YouTube Channel For?
Fans of Adam Dahlberg's YouTube probably noticed that he stopped making content immediately after his ex-girlfriend exposed him. His channel has been inactive since January of this year, still yet it has around 11 million subscribers and allegedly made $8 Million in revenue since 2011. Recently a listing on Fameswap posted by username 'SkySellsStuff' was offering his SkyDoesEverything aka SkyDoesMinecraft channel for $900,000. Fameswap is an online marketplace where social media accounts are listed for sale. In the description of SkySellsStuff's post he states that all videos will be removed from the channel upon purchase, but of course you'll still have his 11 million subscribers.
Theoretically speaking the SkyDoesMinecraft's YouTube channel is worth a lot more than $900,000, so this is a great investment for someone who has the funds. For example an upcoming music artist could purchase his channel then start posting their music, and they immediately have reach of over 10 million people. However, there is one catch that may prevent the purchaser from monetizing the channel with advertisements.
It's alleged that YouTube's terms of services has a clause against selling a channel that already has been deemed eligible for monetization. This might be because YouTube has a stringent review process that is conducted on a per user basis before they allow ads to show on content. Selling a channel that is already eligible for monetization potentially circumvents that review process, especially if original account holder's google account is also part of the deal.