NBA 2K24, the latest installment of the popular basketball video game series, has been praised for its realistic graphic based on the the revealed screenshots. However, some eagle-eyed fans have noticed a glaring mistake in one of the game's features: the tattoos of Kobe Bryant.
Why Does Kobe Bryant Have the Wrong Arm Tattoo in 2K24?
Kobe Bryant, the late Los Angeles Lakers legend, had a handful of tattoos on his body, and they all had a very special meaning to him. One of his most prominent tattoos was a butterfly crown on his right bicep, which he got in honor of his wife, Vanessa. The crown was also accompanied by angel wings, her name, and a reference to Psalm XXVII, a Bible passage that helped him get through the sexual assault scandal in 2003.
However, in NBA 2K24, the 2010 version of Kobe Bryant does not have the correct tattoo on his right arm. Instead of the butterfly crown, he has a random flame tattoo that extends from his arm to his shoulder blade. This is a clear mismatch with the real-life Kobe Bryant, who never had such a tattoo on his body.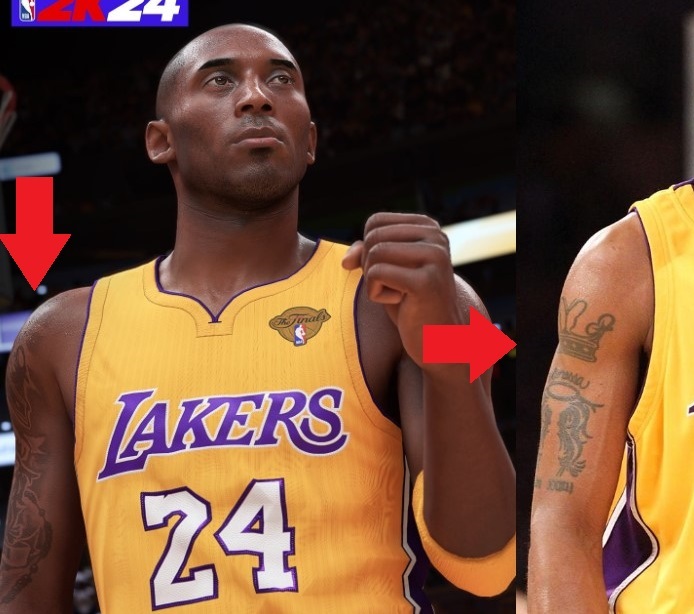 So why did 2K Sports make this mistake? One possible explanation is that they could not acquire a licensing agreement from the tattoo artists who created the original tattoo for Kobe. This is not an uncommon issue in the video game industry, as tattoo artists have sued game developers for using their designs without permission in the past.
For example, in 2016, Solid Oak Sketches filed a lawsuit against Take-Two Interactive, the parent company of 2K Sports, for using their tattoos on LeBron James, Eric Bledsoe, and Kenyon Martin in NBA 2K16. The case was settled in 2020, with Take-Two agreeing to pay $1.1 million to Solid Oak Sketches.
Perhaps 2K Sports wanted to avoid another legal dispute and decided to replace Kobe's tattoo with a generic one. However, this decision has not gone well with the fans, who have expressed their disappointment and frustration on social media. Some fans have even called for a boycott of the game until 2K Sports fixes the error.
It is unclear whether 2K Sports will address this issue and update the game with the correct tattoo for Kobe Bryant before its final release. However, it is clear that many feel they have disrespected the memory and legacy of one of the greatest basketball players of all time by giving him the wrong tattoo, considering he is the focus of this years iteration of the franchise.